Caravan Owners Clubs
Car Cruiser Owners Club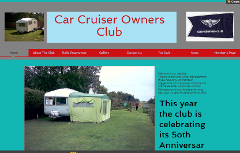 In 1963 when this club was set up the Car Cruiser Caravan was already a classic. 1930s Car Cruisers were streamlined and lightweight and well ahead of their time. Now celebrating it's 50th year anniversary the club is small with just 25 families as members but is never the less going strong.
There's something very special about owning a classic caravan and if you own a Car Cruiser there's no doubt you will want to join this club. The club organises around 6 rallies each year.
Visit the Car Cruiser owners Club
Unfortunately most Car Cruisers are too old for Caravanwise Caravan Insurance

Please add a comment or club notice.
Hello. I was wondering if you have any contacts here on the Cheshire border/ Wirral Our classic car club are hoding our 3rd show on SUNDAY AUGUST 12TH 2012 at Foxes riding school 10am/400pm. for cars.bikes.scooters/and so on would you be able to send me any contacts you have close by for me to contact we would like to invite classic caravans [could you please help me] please would you visit our web page which will tell you more on this years show and the last 2011 www.north cheshire classic car club.co.uk Thank you Dave France Club Chairman.

David France 12 March 2012

Hi,
Can you please note the website address has changed and is now
www.carcruiserclub.wix.com/ccoc

Thanks

David Fletcher 14 April 2013

Hello, I have just bought a 1960 car cruiser and need to get hold of a roof light. Would any of your members have a spare one to sell. thank you

C Pugh 7 May 2014

I have a large quantity of original Car Cruiser crockery which I would like to sell. If interested get in touch.

fidelmadefaoite@hotmail.co.uk 28 October 2016