Interest Group Clubs
Carmel Caravan Club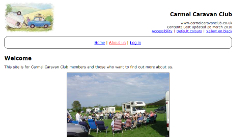 A SE of England based Jewish caravanners club.
We are a London and Home Counties based club for Jewish caravanners (including motor caravans and trailer-tents) who wish to enjoy sharing weekend rallies (or meetings) with like minded co-religionists. Members come from all spectrums of the Jewish community and the club does not require any particular level of religious observance. At present we have about 35 members.
The club organises around 20 rallies a year in the Spring, Summer and early Autumn, all within 2 hours drive of the North side of London.
With membership at just £15 a year and fees for a typical 2 night weekend rally being just £18 the club offers a very cost effective way for you to enjoy your caravan in the relaxed company of other like minded people.
Full details of membership and rally list together with details of how to contact the club can be found on the club web site.
Caravanwise offer Caravan Insurance , motorhome insurance and insurance for trailer tents and welcomes club members.

Please add a comment or club notice.
we would ove toknow more about this club and how we can join

mrs lipshaw 10 August 2010

Hello,
I'm extremely pleased to have discovered the club and would like to know more please.

Regards. Sue

Sue Luckman 27 November 2012

I would really like to get a bit more information about your club if it still exists

David 18 June 2014

Is Carmel caravan club still operational?!

Alison green 22 February 2016

I have been trying to contact this club for sometime, the email on the website is not valid and there are no other contact details. Are they still going?

Christine Richardson 4 April 2017

Looking to hire a caravan or motor home.
We work every weekend and longer through the summer at all type of festivals.
Do you or know anyone that can help us out.

Ruth 24 May 2017

Are you dog friendly?

Sigler 7 July 2019