Motorhome Clubs
Roma Club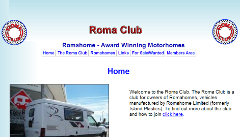 The Roma Club is a club for owners of Romahomes, vehicles manufactured by Romahome Limited (formerly Island Plastics). The club is currently celebrating its 27th year and goes from strength to strength.
Roma Club Rallies are held throughout the year, all over the UK so there's always a chance to meet with other members at a convenient location, make new friends, relax and do as much or as little as you choose. There is always a welcoming friendly atmosphere at Roma Club rallies.
The Roma Club produces a magazine four times a year for members. This contains information about rallies, updates on fellow members and their travels, news from Romahome Limited, advice on technical matters, hints and tips on maintenance and equipment.
The clubs membership is currently £15.00 p/a as of 2013, and applications can be submitted here on their excellent web site:
Roma Club
Caravanwise campervan insurance is pleased to offer Roma club owners a discount on their insurance, subject to a minimum premium.

Please add a comment or club notice.
I have sold my Romahome Hi Lo to save further disappointment please remove the advert. Yours Colin Ashe

Colin Ashe 14 September 2013

hi can anyone tell me the weight of a roma riva 2000 and if my vivaro 2 ltr turbo will tow it many thanks

maurice dixon 9 December 2013