National Caravan Clubs
Coast & Countryside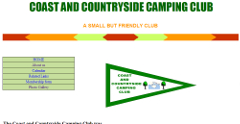 Coast & Countryside Camping Club is a small club with around 100 members from as far afield as Lancashire and Yorkshire who enjoy visiting the South Coast and enjoy greenfield camping. The club was formed in 2005 and has grown steadily since then. Tents, caravans, folding campers, trailer tents and motorhomes are all welcome.
We have no overheads as the club is run by the members for the members, so our subscription is a modest £5.00 per year which covers the family camping within a unit.

We hold exemption certificates for both Caravans and Motor Homes and Trailer tents and Tents.
If you are interested in joining this small friendly club contact the Chairman or Vice Chairman via email which is detailed on the club web site.
Club website Coast & Countryside
Caravanwise offer Caravan Insurance , motorhome insurance and insurance for trailer tents and welcomes club members.

Please add a comment or club notice.
Went away with this club over Easter & had a wonderful time. Very friendly and easy going. will definately go with them again.

Frank Tuck 28 April 2011

I would be pleased to receive details of your club and look forward to hearing from you
regards Jenny Lines

Jenny Lines 29 February 2012

hi,i am interested in joining your club,is it possible for you to send me the 2013 rally list.many thanks

m.english 22 February 2013

Hi, look on www.coastandcountrysidecampingclub.info for all our rally dates and membership form. Thanks

Syd McDonald 23 February 2013

Had a lovely time amongst warm and friendly campers at Ower this summer. Setting serene with fishing pond a bonus. Many thanks to Syd,Carol, Robin and Winnie.

John and Yvonne Casswell 2 August 2013