Regional Caravan Clubs
Freedom North East 2000 Caravan Club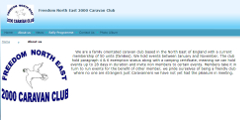 Freedom North East 2000 Caravan Club is not surprisingly a Caravan Organisation based in the North east of England which was formed in 2000. They have a membership of around 50 families and welcome new applications. Regular events and rallies are arranged for members between January and November and these include both local rallies and holiday rallies further afield. Many rallies have associated social, games and fun events with them to make the whole experience more enjoyable.
When the organisation was formed they had 4 main objectives:
1. To encourage and promote caravanning as an enjoyable recreational interest.
2. To promote good fellowship amongst its members.
3. To effectively communicate for the benefit of the members of the club.
4. To encourage the members to play a full in active role in their clubs activities.
The club holds a DEFRA issued Camping Certificate, Para 4 & Para 6 Exemption Certificates and are also members of ACCEO. Which allows the club to use a wider range of venues than would otherwise be the case.
Each year the club chooses a charity to support. In 2008 they raised almost £3,000 for Meningitis UK.
The club web site is very informative and provides email links to allow bookings to rallies to be made.
Link to club web site Freedom North East 2000 Caravan Club They also can be found on their Facebook Group.
Caravanwise offer Caravan Insurance , motorhome insurance and insurance for trailer tents and welcomes club members.

Please add a comment or club notice.
My husband was a terrible snorer and to be honest our caravan holidays used to be a nightmare. He evenually went to get treatment. (or I was threatening divorse!) I have jsut seen that they have opened a new "The Snoring Centre" in Whitley Bay. I wish this had been around when we needed help. Just thought I would share this in case anyone else needed to have peaceful nights!

S Beckett 15 May 2012

how can i join this club and how much will it cost me per year and per rally thank you very much mr t bland

terry bland 3 October 2012

I would like to join this club, how much will it cost and what are the average rally fees thank you

Margaret Norton 19 October 2013

please can you send me information on joining your club

karl broadhurst 9 August 2014

How much is the annual fee to join the club?
What is the url page to join the club

Harry Harman 20 November 2014

Hi me and wife bev would like to rejoin as we use to be member a couple of years ago and would like to caravan again

Keith farrelly 3 November 2018