Magazines
Motor Caravanner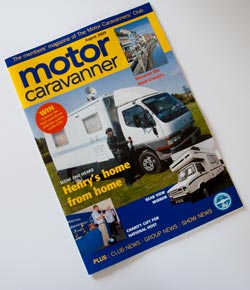 This is the monthly magazine of the Motor Caravanners' Club.
"The club publishes a professional illustrated monthly magazine, Motor Caravanner, issued free to members. It contains articles and correspondence of interest to Motor Caravanners with road tests, travel reports, technical and news items as well as trade announcements and adverts. Details of group activities are in Club Diary and Group News. Members' get free adverts in Members' Bazaar."
This is an excellent magazine which is produced not to sell advertising space but rather to be useful to members of the club who are of course all motorhome and motor caravan owners.
The club web site has sections for members only where you can ask for advice and receive help from people who have probably already dealt with any issue that you are struggling with.

Please add a comment or club notice.