Magazines
Scottish Caravanner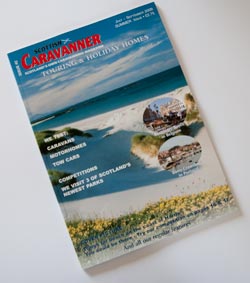 Scotland's own caravanning magazine.
There's a very swish online version with animated turning pages and the ability to drill down to read full articles and get more information from advertisers. Very well done.
The magazine is quarterly and is available on subscription for just £16.20 a year. Before you take out the subscription you can take a look at the online version to see if it is a publication that would suit you.
The web site is more than just a companion to the magazine. It has an active news section, park finder and manufacturers directory.

Please add a comment or club notice.
Looking for new touring ideas in Scotland

Robert Yates 20 April 2011

wish to subscribe again,cancelled inerror

wilma thomson 20 May 2013

Looking for scottish sites

jason wilmer 24 August 2014

It appears a good magazine for Scottish caravaners

Ian Rennie 21 February 2021