Regional Caravan Clubs
Dunelm Caravan Association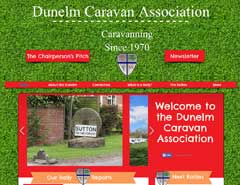 The Dunelm Caravan Association is a family orientated caravan club based in the North East of England that runs rallies from Northumberland to Yorkshire from March to November. The club is open to caravan and motorhome owning families and rallies are arranged in quiet rural locations on attractive farmland.
The club is a not for profit organisation and charges for rallies etc are designed only to recover costs.
For new members a special offer of your first year membership is £5, for continuing members annual membership is £15 and regular rallies are between £5 – £12.50 per night for the 2014/15 season. More is charged for holiday rallies but this is only ever enough to cover the actual cost of running the rally.
Link to club web site Dunelm Caravan Association
Caravanwise offer Caravan Insurance and welcomes club members.

Please add a comment or club notice.