Regional Caravan Clubs
The Bristol and District Camping Club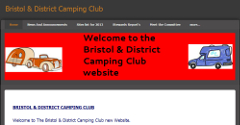 The Bristol and District Camping Club was formed in 1999.
It was formed by a group of sociable campers to provide a local family & dog friendly Caravan and Camping Club. The club organises local rallies to quiet picturesque campsites at a reasonable cost to it's members. Mostly these are within a 70 mile radius of Bristol.
The name of the club uses the term "camping" in its widest possible context. Although most members are in fact caravanners the club is open to anyone who uses whatever form of temporary holiday home. Campers, motorhomers, trailer tenters and camper vanners are all very welcome to join.
On their old site it stated membership was £7 per family member for the first two and £2.50 for additional family members, but on their new website there is no membership info; other than an email address that you can send your application requests too badclub@btinternet.com.
Link to club web site Bristol and District Camping Club
Caravanwise offer Caravan Insurance , motorhome insurance and insurance for trailer tents and welcomes club members.

Please add a comment or club notice.
I have a abbey executive 350 which I am restoring I have removed the tow hitch unit from it and there does not seem to be any reversing facility on it can anyone give me information on this a drawing or diagram would be great

dave b 19 April 2011

Most modern caravans have an automatic reversing facility built into the wheel hubs and do not need any devise on the tow hitch.

Chris 5 August 2011