Motorhome Clubs
Dormobile Owners' Club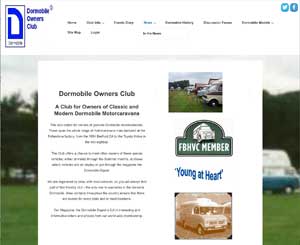 The club caters for owners of genuine Dormobile motorcaravans. These span the whole range of motorcaravans manufactured at the Folkestone factory, from the 1954 Bedford CA to the Toyota HiAce in the mid eighties.
The club offers the chance to meet other Dormobile owners enthusiastic about their vehicles, at events through the summer months and publishes a list of events where the club will attend to present Dormobiles to a wider audience.
There is also a club magazine called "the Dormobile Digest" sent out to members once a year. As well as this their useful web site has details of models and the history of the Dormobile. There is a discussion forum where you can post questions or discuss topics about your Dormobile.
This is a real enthusiasts club.
Membership is £17 per year payable by cheque.
Visit the Dormobile Owners' Club

Please add a comment or club notice.