Motorhome Clubs
The Motor Caravanners' Club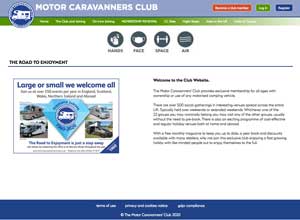 The Motor Caravanners' Club celebrated its Golden Jubilee in 2010.
The Motor Caravanners' Club was formed in 1960 with a set of basic objectives, fifty years later those objectives remain very similar and the club is the only UK one of it's kind.

Motor Caravanners' Club Objectives

To further and promote the interests of Motor Caravanners Encourage the development of Motor Caravanning
Establish and maintain high standards of conduct in Motor Caravanning
Hold Rallies, Meetings, and Displays and Co-operate with similar organisations
To preserve the countryside and access thereto
To provide information on Motor Caravan Sites
Provide members with club licensed sites for up to 5 vans

Currently the club has over 40 CL's (sites for up to 5 vans) some of these have no or limited facilities and are spread over much of England and Wales with just two in Scotland.
The club produces an excellent monthly magazine which is delivered to your door as part of your membership.
The Membership subscription fee is £30.50 and the joining fee is £5.00. The joining fee is waived if you elect to pay by DD.
Motor Caravanners Club
Caravanwise campervan insurance offers a discount for club members

Please add a comment or club notice.
i used to be a member of theMotor Caravan club with a Motor home. I now own a caravan ., Can i still join and attend a Motor Caravan Meet

shirley annand 11 October 2010

Iam going to buy a caravan and would like to know if there is a test I have to take before I can tow a caravan on the road.Also what paper work should I get when I buy it(like a log book etc as proof I own it.

steven 14 August 2013

If it is a touring caravan check out these pages:

http://www.caravanwise.co.uk/caravan-towing.html
https://www.gov.uk/towing-with-car/driving-licence-rules-and-what-you-can-tow
http://www.campingandcaravanningclub.co.uk/helpandadvice/courses/becourse/areyoulegal/

Phil 14 August 2013

Can you find space to include this event now in its 10th, Year,It has attracted international names in the music genre from Barbara Dickson to Dougie McLean. This years event runs from 5th. until 8th June.
Camping on site for w/e ticket holders. Well drained fields. includes a large hardstanding area. portaloos are located around the site. The campsite is enclosed within the grounds and backs onto Spinney Woods. A dog-walking area is located at the back of the field adjacent to the woods. Please ensure your dog is kept on a lead.
Camping fees are £14 per adult for 4 nights Thursday to Monday. children 11-16 £7. Under 11 Free
'Early Bird' Festival ticket and information on www.wirralfolkonthecoast.com

N.B this is not a commercial event it is organised entirely by enthusiastic volunteers
Many thanks
Will Redfearn

Will Redfearn 10 December 2013

I have just taken ownership of my first motorhome and I have a question…I am thinking of installing a small microwave. can I run a normal one of the van battery (if I park in a remote area) or do I need to install a specific type due to the low voltage? I know a normal one will run on hook-up

Cyril Illman 15 March 2014

How can I register to join if I do not have a membership number?
Which membership number do you need?
Thank you.

K Richards 20 May 2014

I intend to buy a motor caravan so that I can visit friends and family in the Colchester area. Can you let me have a list of C.L.s (preferably near Wivenhoe or Rowhedge.

David Powis 3 January 2015

I have just bought a 2001 autohomes wanderer I want to fit a reversing camera. Is it ok to fit the camera number plate level

john burrows 20 January 2015

Is there anyway we can verify the credentials of a camper-van hire company? We are in Australia and would love to hire a van from a company we discovered on the internet.

Bill Taylor 23 January 2015

I have a compass calypso motor home I need a habitation door which is a stable type please help

t douglas 8 March 2015

Hello my name is Craig brown, I have a lovely site on the river Avon called avonbank meadow and would like to be added as one of your site locations, please could you advise me further.

Craig brown 21 July 2015

Hi there we are looking to get a big Carvan/Motorhomes rally going staring on the 10th of febuary yo too the 25th we have 5 acres of land in the heart of Ambleside with beautiful mountain views… Only 10 minutes from lake Windermere and only 2 minutes work from the town centre I was wondering if you could advertise this to you're club that would be brilliant the site is called Miller field Amy question message me on 07493194269 thank you Nick

Nicolas Roberts 1 February 2016

Hi, I have a VW Compass Calypso 2 berth Motorhome, does anyone know where I can buy spares eg side window?

Any information would be most gratefully received as I haven't had much luck. Thanks

Elaine 3 April 2018