Trailer Tent Clubs
The Conway Owners Club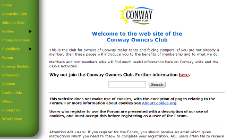 The club holds rallies and gatherings from March to October and everyone is welcome.
"The highlights of our season are the holiday rallies in the UK and in Europe. So far we have been to Spain, France, Germany and Ireland. So many friendships have been forged through the club that often members meet up through the closed season at non-camping events."
The club produces a quarterly magazine, called Contours, which is reputed to be filled with interesting features, rally reports, a members' letters page, funny stories, competitions and classified ads.
The club seems to be targeted particularly at families, and children are integral to their success, with a lot of rally activities based around the enjoyment of the families and children involved.
The web site has useful information and access to membership registration forms.
Link to club website: The Conway Owners Club
Caravanwise offer Caravan Insurance , motorhome insurance and insurance for trailer tents and welcomes club members.

Please add a comment or club notice.
does anyone know how to change corner steadies without taking the whole thing to bits

Diana J 12 July 2010

looking for spares for my tardis flexible push bar wanted etc

John belsey 28 June 2011

Looking for help putting on a cabin canvas on a Conway Cruiser 1996 is there anyone who has instruction manual May 2014

Diane Draper 4 May 2014

Hi I'm looking for some parts for a 1997 raclet herald rear right side back light and a storage box for front spare wheel etc if anyone can help please let me know thanks

Wes 3 August 2014

Shortly, a number of Go Green Adventure Camping Venues will be welcoming Trailer Tents up to a max of 5 units. Enquiries welcome.
John Walden, JW Leisure Ltd.

John Walden 8 April 2015