Trailer Tent Clubs
Trailer Tent and Folding Camper Group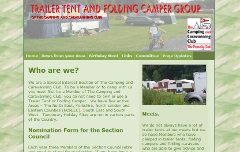 This club is a special interest section of the Camping and Caravanning Club
If you are already a member of the Camping and Caravanning Club and own a folding camper or trailer tent this is the club for you.
The Camping and Caravanning Club is sub-divided on regional and special interest grounds. If you want to get involved with other members with whom you have something in common you have every opportunity to do so with The Camping and Caravanning Club.
The site has general information about the club, club news from your local area, and information on their annual birthday meet.
Link to club website: Trailer Tent Group
Caravanwise offer Caravan Insurance , motorhome insurance and Trailer tent insurance and welcomes club members.

Please add a comment or club notice.
hi i was left a conway camarque trail tent my mum when she past away no hand book to put up can someone help me please

mark watkins 27 November 2010

I have recently purchased a second hand Raclet Solena and wish to add an awning. Can anyone help please?

Stuart Clive Skeplorn 30 April 2012

Looking for CA sites

Judith Bueno 24 July 2012

Recently bought a Trigano Chantilly GL, advice needed re putting awning up. Thanks.

Chris Quest 15 May 2013

I,OWN A CONWAY TRAILER TENT.ARE THERE ANYWAY,OFF REPLACING COULOR,IN.THE MATERIAL.SUCH AS A PAINT OR DYE THANKS.

trevor wall 16 February 2014

hi we are hoping some one may be able to help us we have purchased a Conway cambourne 400dl and are looking for a manueal on the correct way to erect a photo copy would do and we are willing to pay for the copying many thanks

shirley hickling 14 April 2014

hoping someone could help please,

I have a Cabanon Galaxy Trailer Tent and wondering what the length Is ASAP as we have no measurements.

Have to let the holiday booking know the size.

Thanks

emma 3 June 2014

Have just purchased a second hand Raclet trailer tent Quickstop version with awning but no instructions for erection awning. Can anyone help. Its approx 6 years old.

Thanks.

silverstreet4@yahoo.co.uk 26 March 2017

I have found to get to know your unit is to unpack it spread it out on the lawn or drive and walk round it and work out what goes where that is where the fun starts puting it together it works for me get fellow campers you know to help good luck and good camping ray.

raymond padget 4 November 2020