Interest Group Clubs
PLUS Retired Caravanners Club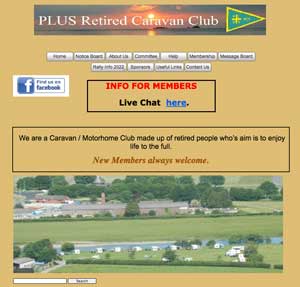 A North West of England based caravan club for caravanners who are happy to be retired, and wish to vacation with similar minded people.
Applications for membership are considered from caravan and motorhome owners who are over 55 years of age and who have retired from full time employment. You can download a copy of the application form on the PLUS Retired Caravan Club's useful website PLUS Retired Caravanners Club .
The form states that acceptance is entirely at the discretion of the Executive Committee. Although the form asks for Christian Name we are sure that applications from other faiths will be considered equally. There is a joining fee of £5 per person plus an annual fee of £5 per person.
The PLUS Retired Caravanners Club also runs a number of rallies each year which are also noted on their website.
Caravanwise offer Caravan Insurance , motorhome insurance and insurance for trailer tents and welcomes club members.

Please add a comment or club notice.
stockport

Sid&Ann 27 April 2015

I have a rally field if anyone wants to organise one. I have a 6.5 acre site nice and quiet 1 mile from the main road lovely countryside location with fishing nice walks and on a cycle route. Take a look at my website http://www.cottage-waters.co.uk we are adult only!!! peaceful or just come for a few nights on the Lincolnshire coast, near Skegness and Mablethorpe

michelle 7 January 2016

michelle 7 January 2016