Interest Group Clubs
Retired Caravanners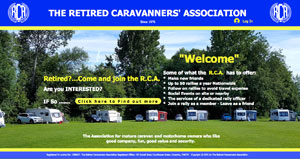 The Retired Caravanners Association
The Friendly club for the over 60's with a caravan and some time on their hands. If you are retired and looking for opportunities to use your caravan with people both like minded and from your generation, this may be just the club for you.
The club organizes many, over 60, rallies each year most of which are for at least a week. Each of the rallies is organised by an individual or small group who are encouraged to "do it their way". As a result each rally has unique elements, such as entertainment both on and off the rally field.
Spring and autumn meets are often held on commercial sites but in the summer, schools, rugby pitches and farmers fields are lined up to provide unique and inexpensive rallies.
Membership is open to people who are themselves or have a spouse who is over 60 years of age, retired from full time employment and who has a caravan or motor caravan. For 2013 membership is just £15 per couple per annum or £7.50 p/p. There is a simple form to complete on the club's web site.
You can find the website at this link: The Retired Caravanners Association
Caravanwise offer Caravan Insurance , motorhome insurance and insurance for trailer tents and welcomes club members.
Static Caravan Static Caravan Insurance

Please add a comment or club notice.
Someone should tell SOMEONE
that the above link to the (mythical?)Retired Caranvanners Assoc is USELESS. As are several other googled references to it. They all end at a front page that goes nowhere. I have been trying to contact this club since early last summer when we noticed a rally boasting their name.Do they really exist? – and has their web master opted out?
I am rapidly losing interest, but if I could contact the organisation soon it would be good.

Barbara West-Kelsey 18 October 2010

I've been doing a bit of research on your comment regarding the Retired Caravanners Association. When I visited their site originally it was working after a fashion, but it used entirely javascript for navigation. Somehow they seem to have managed to completely cripple their site.

Their membership secretary can be contacted here:
The Retired Caravanners Association
Ken Pick,
33 St. George Road,
Hardwick Court
Chepstow. NP16 5LA

I'm going to write to inform them of the problem with the site. If you contact them perhaps you could also mention it.

You might also like to consider PLUS Retired Caravanners Club http://peoplelikeusrcc.com/

Webmaster 26 October 2010

It really is a big big job to find the retired caravan association site
all i get is the front page
CAN YOU MAKE IT EASY JUST TO CLK ON LIKE ALL OTHER SITES. THANKS

j.green 11 January 2011

I AGREE WITH THE ABOVE PLEASE MAKE IT EASY 4 OLD PEOPLE 2 GET ON YOURE SITE
J GREEN

j.green 21 January 2011

Hello,
If we were to join your club can we come on a rally for either 1 or 2 days or would we have to stay for the full rally Mrs I Woodward

Iris Woodward 23 October 2011

www.retiredcaravanners.org.uk
being older i like a trouble free life too.
gerry

gerry 1 January 2014

Hello,all I have been on a number of there rallies in 2013and found them to be very good value and better than weekends so why not try them

David 19 January 2014

Try some extra luxury for at very low cost. Space for caravan parking. Check out our French holiday home at: www.franceholidayhome.eu/

Andrew Steward 2 March 2014

We welcome new members from the lets say more mature age.So if anyone wishes to join us you would be made very welcome.
Bill
rendezvouscaravanclub.webs.com

Bill 29 September 2014

Just browsing your website and came across the Retired Caravanners Association article. I don't know if this organisation still exists as the website link http://www.retiredcaravanners.org.uk/ is no longer active

G.Carter 8 November 2014

Yes The Retired Caravanners Association does exist and a new web site is presently being built by a new web master and will be live soon. The new web site will The Retired Caravanners Association.co.uk

John Hicks 14 November 2014

Join this group, sooo friendly, you will never regret it, and such good value

Carole 2 December 2014

For a club that is struggling for members was it a wise move to take down the web site?
Could they have not continued with the previous one until the new one was ready?

Dave Morley 3 January 2015

My partner who is retired and myself who is over 60 are looking to buy our first motorhome next month and are thinking of becoming members. Have you any information on events you are arranging for 2015 please?

Anita cullip 18 January 2015

I joined the club, only to find a lot of the venues were down the M5.From Birmingham base.( 150 miles plus each way ) Due to bard weather, I had to pay full price for the site, all tho not there. Only attended one meet.

Derek Jones 23 January 2015

The address for our new website is:
http://retiredcaravanners.co.uk

John hicks 28 January 2015

My husband and i have many happy memories of rallies with the RCA but unfortunately due to ill health have had to give up caravanning and we miss it.
But i would recommend the friendly society to anyone.

Monica Robinson. 23 May 2015

I have bean happy to rally with the RCA for many years, had to give up for bad health, misit like mad,thank you RCA for mant happy years Cyril Allen 11 June 2015

Cyril Allen 11 July 2015

A great read " For all Caravanner's"by Dale Quentin, a retired couples 1200 mile trip. See Amazon.

Dave August 4,1015

Dave Coppard 4 August 2015

We have been members for quite a while now,and have enjoyed many rallies. This year we assisted for the first time.We can only say thank you so much to the rallies for making it such fun to do.We hope to be assisting again in 2016

Christine and Gerry Dickens 21 September 2015

Hi. My husband and I are both retired and looking to join a club to make new friends. We don't have a caravan but a small camper van. We live in worcestershire do you have a section close to where we live. Thanks Sheila Winstone.

Sheila Winstone 11 May 2016

We have a small site overlooking Eastbourne if anyone would lke to stay with us we would like to join the retired camping and caravan club

Paddy foley 30 July 2016

Hi, I am one of the area rally organisers for the Retired Caravanners Association. Just to update you, there is no longer an age restriction to join, just one needs to be retired from full time employment.The annual fee is £7.50 per person. The website gives you all the contact details and a membership application forms. We have a brand new website under construction to replace the present one with much more information. So keep checking for it. Paddy can you please contact me through the website www.retiredcaravanners.co.uk and find link to me Rob Wilks Area 4 thanks.

Rob Wilks 25 August 2016

The RETIRED CARAVANNERS ASSOCIATION new improved website is now live and can be found at www.retiredcaravanners.co.uk

Rob Wilks 16 December 2016

Hi I have been a member to this club for a lot of years but it's time that some of the old messages are clean up a lot has happened since 2010. Look at our web site and see what they have to offer,

David smith 22 July 2018