Interest Group Clubs
Rendezvous Caravan Club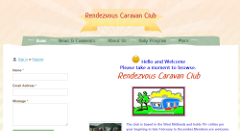 A busy site from a busy club. The Rendezvous Caravan Club is a small Midlands based rally club with meetings in the Midlands area that welcomes Caravans, motor homes and tents to their rally club. They offer a warm welcome to new members. The cost of club membership is £10 per unit per year i.e Caravan, Motor Home, folding camper or tent.
The club is exclusively for adults
Rallies are generally held every other weekend throughout the year plus some five day rallies, approximately 18 rallies in total starting in late February ending with the New Year Rally.
Rendezvous Caravan Club are an interactive club relying on input from members and regularly have social evenings and events.
All rallies are run by the members of the club and are free to offer whatever light entertainment they wish, and it is all done in a light hearted manner.We have a few musicians in the group, walkers, photography ,craft card making,needle work, Cross stitch and knitting, drinkers, talkers, and some clever b••gers when it comes to quiz's so a fair mix from a smallish group.
If you live in the Midlands area and are looking to get involved in a busy rallying club to get to know more like minded people and make the most of your caravan or motorhome the Rendezvous Caravan Club may be worth a look.

Please add a comment or club notice.
www.chateaulacomte.com
Hello, we are an Adult Only Camping for 18 years of age and over, nestled in the Lot / Dordogne area of South West France. If you would like to de-stress in a calm and tranquil children free zone, Stuart and I look forward to welcoming you.

Sheila & Stuart Coe 10 July 2012

Anyone wishing to give the Rendezvous CC a try just email us for details and we will get back to you a.s.a.p.


Bill 10 July 2012

i have an adult only rally field if you are interested in holding a rally here i live on the outskirts of alford near skegness fishing on site nice and quite please look at me website www.cottage-waters.co.uk thanks michelle

michelle 9 June 2014

Hi Michelle
Thank you for the information. Alas we are a west mids group so you are sited too far out of our area but thank you anyway.Your website noted!

Bill 10 June 2014

Anyone looking for weekend and 5 day rallies without the noise of playing children then the Rendezvous could be just for you Social evenings in good company.Come along a join in the fun.
New members welcome.

Carol 12 November 2015