Interest Group Clubs
The Caravanners and Campers Christian Fellowship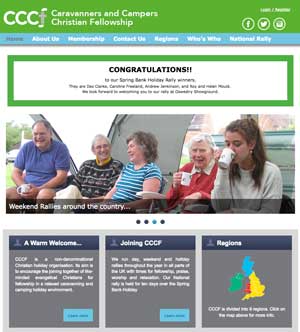 If you are an evangelical Christian and have a caravan or tent and want to take holidays with like minded Christians this is the club for you.
"The CCCF is an interdenominational Christian holiday organisation founded in 1969. Our aim is to encourage the joining together of like-minded evangelical Christians for fellowship in a relaxed caravanning and camping holiday environment in all parts of the British Isles."
2009 was the Fellowship's 40th birthday and clearly the organisation goes from strength to strength. Rallying is at the heart of the Caravanners and Campers Christian Fellowship and dozens of rallies are organised each year throughout Scotland, England, Wales and Northern Ireland. If you don't want to travel far you can chose a rally near to your home or you can go to any of the rallies and go further afield. There are weekend rallies from Friday to Sunday and long weekend rallies over bank holiday weekends.
Full annual membership costs just £29.00 per family unit
The fellowship has an excellent web site with full details of rallies and membership details here: The Caravanners and Campers Christian Fellowship
Caravanwise offer Caravan Insurance , motorhome insurance and insurance for trailer tents and welcomes club members.

Please add a comment or club notice.
www.chateaulacomte.com
We are an Adult Only camping for those over the age of 18 years. We offer peace and tranquillity for those times when you need to totally relax on holiday allowing stress and ttension to just melt away. Stuart and I look forward to welcoming you to Lacomté.

Sheila & Stuart Coe 10 July 2012

please e mail further details thx clive

clive smith 29 August 2014

Worship August bank Holiday
On Sunday 30th August 2015 @ 10.30am we are holding a service of Worship at the Wharf Tavern in Cheswardine in Shropshire. All welcome at TF9 2LP. The Wharf also has a very beautiful caravan park and being by the canal is populated by many canal boats.

Rev Andy Ackroyd 15 July 2015