Interest Group Clubs
The Gay Caravan & Motorhome Club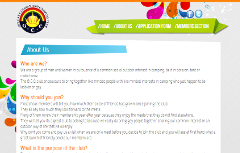 The Gay Caravan & Camping Club a UK-based club for lesbians and gay men, who own a Caravan, Tent or Motorhome and are looking for an opportunity to meet up in a relaxed atmosphere with other like minded people.
"The prime function of the G.C.C. club is to provide the opportunity for a social meeting point for lesbians and gay men who follow their hobby in camping. Whether this is in a caravan, tent or motorhome, they know they can relax in the company of like-minded people."
The club meets are often held on sites which are in use by other members of the public and families and whilst the club has a relaxed attitude to most things there are a set of guidelines designed to protect the reputation of the club and ensure that they are welcome back to all sites that they use. The club welcomes members with children but states "Club events and get togethers after 8pm are strictly adults only (18+)"
Annual membership which is open to UK and European residents is currently 2009 £15 per unit and runs from March to March.
The Gay Caravan & Motorhome Club
Caravanwise offer Caravan Insurance , motorhome insurance and insurance for trailer tents and welcomes club members.

Please add a comment or club notice.
hi i would like to know more about the club and how i can join .

adrian mattock 15 July 2012

Application form:
http://www.gaycaravanclub.com/apply.htm

Phil 15 July 2012

this link does not work, nor does going direct to the GCC site and applying, any hints as to how to contact the club and join?

Colin Cheshire 1 November 2012

Where can I join you guys at GAy Caravans

Steven king 5 June 2013

I would like to know more about the club and how to join.

Alan Webster 2 July 2013

Dear Sir/Madam,

We were wanting to know if we could include the Organisation in the forthcoming Sports Special Issue of The Gay Vibe Magazine.

Many Thanks,

P.French

Gay Vibe Magazine

07847880093

Peter French 17 December 2013

Please can you give me list of your meetings for 2014. Before I join please

Dean Hope 2 March 2014

I AM KEEN TO JOIN THE CLUB

Chris Goodwin 24 June 2014

Hi are you guys camping this week if so where and could we join you all we are 2 lesbian friends with 2 dogs looking to camp in a touring caravan this week for a couple of days intially as my friend has now got her tow bar on and we would love to join like minded women and gay men
Kind regards Anna and Ann

Anna L Orlinski 19 August 2014

Hi guys i'm a single gay male interested in joining this club. How do i go about joining? Would like to get away before the season ends.
Cheers Ian

Ian Smith 13 September 2014

Just wondering if you coordinate with other gay groups such as GOC?
the-ritz@hotmail.com

John 9 February 2015

Is the club still operating ?
We would like to join if possible

garry herrington 11 February 2015

Yes, the club is still running. There is a new website, which is www.thegcmc.co.uk which gives details. Look forward to meeting everyone :-)

David Conroy 22 February 2015

hi everyone i have an adult only rally field if you are interested in holding a rally fishing is on site a countryside location on the east coast not far from skegness please get in touch or look at my website www.cottage-waters.co.uk

michelle 1 June 2015

Hi I'm interested in joining, have just bought another motor home but now I'm a senior citizen and on my own so sometimes I could do with company.

Sherry Bowman 4 June 2015

Hi. We would like to join the club please. We have a camper/caravan. Thanks

Pam 3 July 2015

We would like to join this club – please would you advise whether you also have a facebook page.
Many thanks

Kae & Dawn 20 July 2015

hi I am a gay senior single women who would like to know more about your club before I join thank you x

marjorie fry 28 August 2015

I
nteresting in joining, computer skills not very good, a phone no would help

Dave Phillips 23 September 2015

Will join Asap, in March. Can't believe I've gotta wait that long!

D. Westbrook 29 November 2015

Hia

If this club is a gay and lesbian camping and caravaning club I'm interested in joining with my girlfriend please. ♀

Jo Stephens 5 December 2015

The Wheel Caravan Park is a new campsite next to the Falkirk Wheel in Scotland.All Gay Caravan Club members are welcome.Iain

iain 7 July 2016

Details of how to join please

Linda scott 28 July 2016

would like to know if you have many meets in scotland and how to join. thanks

Ina Anderson 21 August 2016

Dear All
Sorry for the delayed response, for more information or to join the club you can take a look at our website, alternatively leave me your e mail address and I will get in contact.

Alternatively e mail me at gcmcnewsletter@hotmail.com

www.thegcmc.co.uk

GCMC Chairman 8 September 2016

The GCMC has been going strong since 1990, please do get in touch for more information or to Join..

gcmcnewsletter@hotmail.com or visit the website www.thegcmc.co.uk

GCMC Chairman 9 September 2016

We have continued to be the UK's longest running club, with great members discounts, free raffles and so much more, just check us out for more info at www.thegcmc.co.uk (January 2017)

GCMC Chairman 15 January 2017

Hi I'm interested in joining. I have a vw camper and am single looking for a guy. Any suggestions

Marty 10 May 2017

Hi Marty We have a mixture of males and females both couples and singles in the Club, and its a great way of meeting new friends. please check out our website for more info on the GCMC www.thegcmc.co.uk

Steve - GCMC Chairman 31 May 2017

Hi. Me and my partner have a caravan and am interested in joining the group.

Pam y collier 17 July 2017

Please can you tell me more about the club and are pets aloud on site

Audra Thomas 6 August 2017

Hi Pam and Audra, please check out our website for more information, www.thegcmc.co.uk

I look forward to hearing from you

Steve – GCMC Chairman

Steve - GCMC Chairman 8 August 2017

Do you have a link for NewZealand as we will be travelling in a camper van there for 5 weeks in April 2018. Preferably not using FacaBook. Many thanks.

Linda & Helen

Linda / Canada 31 January 2018

Hi Linda and Helen, sorry but we are uk based, however if you are looking for anything specific then let me know and I will try and help you out, x

Steve - GCMC Chairman 4 February 2018

The GCMC is thriving as a Club and continues to welcome new members, just get in touch for more information or check out our website. Stay Safe

GCMC 14 May 2021

How do I join the club? And get details about meets. I'm from Greater Manchester so if most meets are down south it's probably not practical for me.

Robert Collinge 21 September 2021

Go to this website and fill in the membership form, perhaps. http://www.thegcmc.co.uk/

Phil 21 September 2021