Interest Group Clubs
The Freedom Club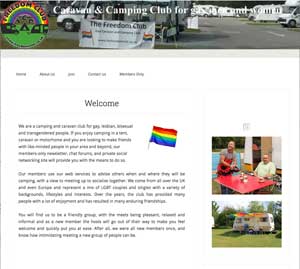 For Gay Men and Women who are Owners of a Caravan, Motor Home or Tent.
The Freedom Club arranges rallies and meets many of which are on Caravan Club and Camping & Caravanning Club sites and certificated locations. They are not a flag waving gay activists club rather they are a friendly place for people who happen to be gay to have a relaxed holiday and meet up. The club consists of many couples and singles.
The club meets on sites which are used at the same time by other campers and families, and whilst there is a relaxed attitude to most things the club does have a set of sensible guidelines intended to protect the reputation of the club.
"We are a club for Gay Men and Gay Women pursuing a common interest of Camping or Caravanning. Our aim is to provide a means whereby gay people can meet up for weekends, weeks or even longer rallies throughout the UK and sometimes into Ireland and Europe."
Membership is open to all gay men and women over the age of 18. The membership fee is per "unit" (caravan, campervan or tent) and is currently £15 a year. You can join online here: Online Application:
Caravanwise offer Caravan Insurance , motorhome insurance and insurance for trailer tents and welcomes club members.

Please add a comment or club notice.
Hello, we own and run a 4* camping that is uniquely for Adults over 18. Should this be of interest please go to:-
www.chateaulacomte.com
Sheila and Stuart Coe

Coe Stuart 3 August 2013

hi
i have an adult only rally field for hire with exclusive fishing rights for all campers nice and quite near skegnes 6.5 acres counrtyside location
please look at me my website www.cottage-waters.co.uk
thanks
michelle gray

michelle gray 9 June 2014