National Caravan Clubs
The Association of Caravan and Camping Exempted Organisations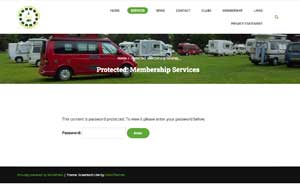 ACCEO is the Association of Caravan and Camping Exempted Organisations and represent nearly 200 Caravan and Camping Clubs who hold a Certificate of Exemption from DEFRA (The Department for Environment, Food and Rural Activities) in England, The Welsh Assembly Government (Planning Division) and The Scottish Government (Housing Markets Supply Division) An elected Committee runs the Organisation on behalf of the member Clubs.
The "Caravan Sites and Control of Development Act, 1960" provides in Paragraph 6 of the First Schedule that – "a site licence shall not be required for the use of land as a caravan site if the use is under the supervision of an exempted organisation and is in pursuance of arrangements made by that organisation for a meeting of its Members lasting not more than 5 days". Properly constituted leisure clubs whose main activity is Caravanning or Camping may apply to the DEFRA to become an 'Exempted Organisation' and subject to giving certain undertakings a Certificate of Exemption may be issued to that club.
Link to website ACCEO

Please add a comment or club notice.
we are a small working farm surrounded by woodland walking areas and would like initially to set up a small tent camp site could you advise on the best way forward please.
thanks
Chris Cook

Chris Cook 23 June 2021

Hi there,

I have a piece of land in the new forest National park which has water running to it. I will be able to run electricity to it and i hope to build some shepherds huts on the land to rent out through the summer months. Might you have any advice for me? Planning consultants told me to run my idea by an organisation like this and they feel id need planning unless I can become a part of an organisation like this. I very much hope to get this project under way this summer! Any advice would be so much appreciated. I look forward to hearing from you.

Kind regards,

Jack

Jack Judd 4 February 2020

Hi I have 1 and half acres field and would like to open an excepted site could you give me any advice please

Mrs Nicola Barson 10 March 2018

I have a small secluded grass paddock near uttoxeter, suitable for 6 motorhome (sorry not caravans) meets until end October – £100 per meet per night. Water tap nearby.

martin horan 30 September 2016

I currently run a campsite, Is there a list of caravan clubs who may b interested in using my site, I have hook ups , showers, toilets eta
Christine

christine dickinson 11 June 2016

can you please help me as I have a paddock which I wish to use as a camping and caravan site .this area of land is roughly 2 acre . has electric and water on site .please can you advise me on what to do to get a license to us as a site .. many thanks kath..

kath bryant 2 October 2015

Rally Field available in East Yorkshire.

We have been caravanning all over Europe for the last 30 years, and are keen to offer you everything we would want ourselves.

Please see our website www.gartononthewolds.com for further information.

Taking bookings for 2015 and looking forward to welcoming your Club.

East End Farm Campsite 30 November 2014

Hello,

I have 1 acre of land adjacent to my house and would like to use it as an excempted site, could I be advised how I can proceed?

Regards

Paul Hewitt

Paul Hewitt 22 October 2014

Our beautiful campsite is set in the stunning surroundings of Dartmoor National Park close to Tavistock with easy access to the A386. Our high standard of park facilities and location make us an ideal venue to host a rally and we are able to offer rally pitches during April, May, June, September and October 2014 at a cost of £9 per unit per night for up to 2 people with an additional £2 per night for electricity if required.
We are also able to provide support to any group with an event gazebo, gas barbecue, and tables for a self-run barbecue if required. We can also provide extras such as Devon cream teas and fresh bread and pastries baked daily on the premises. In addition to this we have an outdoor skittle alley and 'Aunt Sally' equipment, amenity buildings and small onsite shop.
Please visit www.harfordbridge.co.uk for further information and photographs of our beautiful park.
Please feel free to call me on the office number if you wish to discuss this further. My mobile number is 07773251457.
Kind regards
Paul Williamson
Park Manager

Paul Williamson 26 September 2013

Please can you let me have a list of prices for 50 ad above members.

Welton Owners Club 29 July 2013

Hi I was wondering if you could help me , I am the rally sec for the Nomads group we have our own exempt certificate for a 5 night rally and just want some advice as to weather we can share a rally field if need be with another group who wish to hold there rally at the same time as us . We have been told by the owners that she could rope the area off separtarating the two rally's off just needing conformation from you before I go ahead and.book it . Many thanks Mr Billy Haigh Nomads sec

Nomads rally sec 29 August 2012

We have some land where we live (East Sussex), one field of which we open for camping under the 28 day rule through the summer. I believe though that Exempted Organisations can use the field without affecting those 28 days. Do you know where we can advertise our field for such organisations ?
Many thanks
Karen Wells

Karen Wells 10 April 2012

Dear friends, Please can you note that our website url has changed (since Nov last), to www.acceo.org together with associated email addresses, and many communications are going astray. Can you assist us by changing your hyperlink url on your website from www.acceo.org.uk which no longer has connection with ACCEO.

Thank you,
John Wilton, ACCEO Webmaster.

John Wilton 8 February 2012