National Caravan Clubs
The International Caravanning Association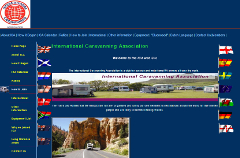 The International Caravanning Association was first established in 1969 with the primary aim of promoting international understanding through caravanning.
It's has become an International Organization for Motor Home and Caravanning Owners; who's useful members organise Tours for other members, to destinations across the World. Destinations such as; Africa, Australia, Germany, Turkey – and many more! It's of great value to those who wish to also rally for periods longer than a few weeks, in the company of like minded people, who will become lifetime friends.
Link to club website The International Caravanning Association

Please add a comment or club notice.
We have just opened a storage area for caravans and motor homes in the Costa Blanca area near a town called Delores. We also have refurbishment, service facilities and twenty four hour security. We also offer taxi service between Alicante airport to any destination. Our company is a registered S.L. business with the Spanish authorities.
Is there anyway you could publicise our services or do you know of any other ways in which to advertise what we have to offer.
My Telephone number is 634 339 574 or email thecan20001@yahoo.co.uk
Regards.
Mick Cash.

Mick Bentley Cash 5 March 2013