National Caravan Clubs
The Historic Caravan Club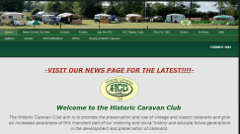 With the Historic Caravan Club the focus is on the caravan which although they are used have a more important function. The aim of the club is to encourage the restoration, preservation and use of historic caravans. It was formed in 1993 by a group of enthusiasts.
The Historic Caravan Club was formed on January 16th, 1993 by a group of Historic Caravan Enthusiasts at a meeting in Tetbury in Gloucestershire with the aim of maintaining close contact in order to promote the restoration, preservation, use and display of early historic caravans. Since then the club has grown quickly and become widely accepted as the reference point for anyone with an interest in the subject.
UK annual membership is £15 (2009) and is slightly higher for Europe and the Rest of the World simply to cover the higher cost of postage.
Full details from the club web site Historic Caravan Club

Please add a comment or club notice.