National Caravan Clubs
The Caravan Club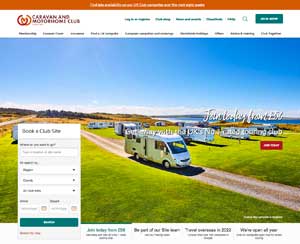 The biggest caravan only club in the UK and probably the World.
"The Caravan Club was founded in 1907 to bring together those interested in van life as a pastime…to improve and supply suitable vans and other appliances….to develop the pastime by collecting, publishing and supplying to members, books and periodicals and lists of camp sites etc… to arrange camping grounds.

Over 100 years later, The Caravan Club provides just over 375,000 member households with access to nearly 3,000 locations, as well as access to its vast storehouse of knowledge and expertise in how to make the most of caravanning as a leisure pastime.

Today it still promotes and connects those interested in caravanning."
Excellent sites, great services and represent caravanners and motor caravanners to Government and the "industry". Some members complain that strict rules are imposed on sites.
They provide members with an excellent amount of sites, over 3000 to be exact; along with top advice from the countries finest experts. You can join via their website for £43.00, as well as find out any more information.
Link to club website Caravan Club
Caravanwise offer Caravan Insurance , motorhome insurance and insurance for trailer tents and welcomes club members.

Please add a comment or club notice.
All sites are beautifully maintained.Rules are for the benefit of all caravanners

Patricia 17 August 2013

Hello, can you compare this club with the ACSI club in the Netherlands. When you are a member you get a discount on many campsites before the high season? If so, can we join such a club in the UK? Thanks for responding.

A. Vreugdenhil 29 November 2014

Dear Caravan Club,
I am thinking of joining your club. I have a Berlingo Romahome and so have no toilet facilities. I'd be grateful if you could tell me what proportion of your sites have toilets and if possible could you tell me where I could see a map of your sites. I would also like to know how many of your sites are open all year round and again I'd like to be able to access a map of these if possible.
Many thanks. Rob Barrat

Rob Barratt 6 January 2015