National Caravan Clubs
The Irish Camping and Caravan Club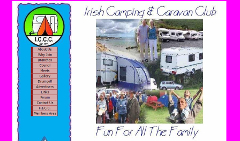 The Club was formed in 1971 when a group of 5 families met and formed a voluntary organisation for those interested in Camping and Caravanning. The aim of the Club was from the beginning to promote and develop Camping and Caravanning throughout Ireland by the provision of suitable sites in co-operation with other National and International bodies and to foster an interest in a healthy outdoor life.
We are a 32 county club (in 4 branches) which caters equally for Caravans, Motor homes & Tents. Drumgoff, the club site, Co. Wicklow is open 365 days a year to all club members. Rallies and various types of Meets are organised all year round for the young and old alike.
Family membership is available for €73.00 (Husband/Wife/Partner and children under 18 years of age on a calendar year basis), with signal person membership for €62.50 (which already includes a €10 registration fee). Club membership allows participation at any branch meet. Members also receive a club periodical "The Camper" to keep up to date.
The Irish Camping and Caravan Club is affiliated to the International Federation De Camping Et De Caravanning (F.I.C.C.) and issues camping Carnets that are requested on most continental sites as well as the co-ordination of the International Rally in some country every year.
Link to club website The Irish Camping and Caravan Club

Please add a comment or club notice.
I am Caravan Club member.Touring Ireland 2011,Want booklet on large and small sites in Ireland.Can you HELP?

G.H.jennison 17 December 2010

I too am a Caravan Club member and also The Camping and Caravanning Club. I too would like a booklet on sites in S.Ireland please

A Wingfield 10 May 2013