National Caravan Clubs
Avondale Caravan Club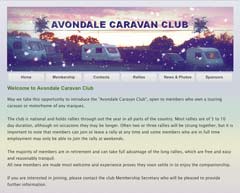 Membership of the Avondale Caravan Club is open to anyone in the UK who owns a touring caravan or motorhome of any make.
This is a national club that holds mostly 5 to 10 day rallies in all parts of the country and during all seasons of the year. Attendance at the rallies is very flexible and the club goes out of its way to make members welcome at rallies if for example they can only stay for the weekend. Occasionally they organise longer rallies and often two or three rallies may be strung together. For retired people that make up a large proportion of the membership these longer rallies provide a cost effective way to enjoy longer holidays in the company of like minded people in a relaxed and tranquil environment.
The membership fee for 2017 is just £10 and this is renewable on 1st January each year. You can obtain an application form here:
Avondale Caravan Club Membership form
If you have a caravan or motorhome and think that you would enjoy attending friendly, relaxed and reasonably priced rallies the Avondale Caravan Club looks like a very good option.
Caravanwise arranges Caravan Insurance , motorhome insurance and insurance for trailer tents and offers discounts for club members.

Please add a comment or club notice.
Have an Avondale caravan – a Wren .would like to join the club

Pam Benton 11 August 2020

Hi just buying my first caravan not a Wren unfortunately (See my surname) but a Mayfly. would love some advice on what wiring i need on the soon to be fitted tow bar. Forgive my lack of knowledge but we all have to start somewhere.

les wren 14 August 2020