National Caravan Clubs
Caravan Savers Club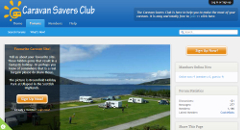 This is the club where members share great deals for caravanners found on the internet and in dealers showrooms.
If a dealer has ex demo awnings at half price or a caravan site is offering late season savers, for example, this is the place to spread the word.
The club is entirely free to join and the website is free from paid advertising.
Caravan dealers, manufactures, caravan site owners, ferry operators and similar commercial organisations that provide services for caravans and caravanners are welcome to join and post information and any special offers they would like to offer to members.
Members are encouraged to share information about the best places to find caravanning products and services and thereby everyone can make the best use of their caravan in the most cost effective way.
TOTALLY FREE!!!!

Please add a comment or club notice.
We have just received cl status for 5 caravans at park Rose Village,Carnaby, near Bridlington.
Due to open march2013.
See Park Rose Village web site nearer the time

James horsley 7 January 2013

i would like to join, we are new to caravaning. only been out once last year.
looks a great club to join

Peter Lees 22 January 2014

Hi, been caravanning for awhile now .never to old to learn / find new site, things to do. like to meet with other caravanners when out and about live north bucks area

Dave Ayres 15 February 2014

Love to join to get as much info on supersaver deals for us as new to motorhoming. X

David Bowen 23 February 2014

Hi we would love to join look forward to finding new sites and savings new to caravan world

Barry Cox 18 March 2014

We have had caravans for about 40 years and always look for bargains

Roy Greenhough 20 April 2014

We are a 'young at heart couple' but we want to grow old disgracefully lol…can we join?

lynne 17 May 2016