Caravan Owners Clubs
Bürstner Club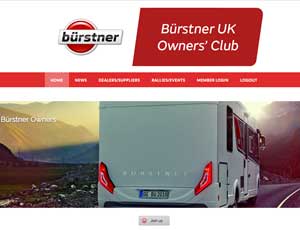 The Burstner Club was formed formed by a group of Bürstner owners with a range of objectives including.
To provide an opportunity for owners to meet, socialise and make new friends at Bürstner Club rallies and events.
Issue of a quarterly newsletter to provide an interchange of ideas and useful information between the members.
Provide a close liaison between the owners of Bürstner motorhomes and caravans with the Bürstner Company.

The club was formed in 2004 and the inaugural meeting took place that year at the Bo Peep Caravan Club site in March of that year. This first meeting had just 90 new members in attendance who elected the first committee.
Since 2004 The Bürstner Club has held over 100 rallies at various locations in both the UK and Europe. The club also attends major shows where they provide a regular Bürstner Club pitching area at those shows. For 2013 there are 12 club rallies planned at many locations around the country!
Membership fees for the Bürstner Club are £20 per annum which includes four useful newsletters each year.
If you would like to join the Bürstner Club details can be found here: Membership Details
Caravanwise offers touring caravan insurance for European built caravans including Bürstner caravans with up to 4 berths and single axles.

Please add a comment or club notice.
We wish to sell our 2005 Bürstner C455TS. It is in excellent condition with many extras fitted on delivery. If any members are interested, please contact me on my email address davidrwaters@hotmail.com

David Waters 10 July 2013

Hi
I am looking to put our 2008 Burstner Belcanto 500TK up for sale, I can't find anything like it on the current second hand market, and so don't know what to put it on the market for. I tried to get a trade in price and they couldn't help either.
Is there a website that your club would recommend?
Many thanks.
Sam

Sam Owen-Smith 3 August 2014

hi, I have a lovely burstener caravan for sale 1998. Anyone interested love to hear from you. end bedroom, city Y60 Ts model.

angela White 23 March 2015