Caravan Owners Clubs
The Bessacarr owners club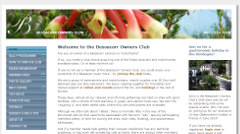 The Bessacarr owners club has been established for over 40 years. It has quite strict rules which are intended to keep the club purely for owners of Bessaccarr caravans and motorhomes. Currently, Augast 2009 if you want to rally with the club you must do so in a Bessaccar marque motorhome or caravan.
The Club recognises that owners of caravans and motorhomes have made a considerable investment and therefore by providing rally opportunities for their members, you are able to make the most of your leisure time.
Membership is open to all current Bessacarr caravan & motorhome owners.
The annual subscription fee is currently £15 and the club asks that you can either pay online, or you can send a cheque for this value, payable to "The Bessacarr Owners Club" along with the receipt which is produced at the end of the online registration process.
Caravanwise offers members a discount on their Caravan Insurance or Motorhome Insurance

Please add a comment or club notice.
interested in knowing more i have a bessacar caravan

ron boshell 17 July 2011

Hello, I just wondered if anyone can help me.I'm hopefully going to be buying a 2007 (56) Fiat Ducato 2.8 Diesel bessacarr motorhome very soon, I'm not sure of the model, but it looks like it says "Cameo" on the back. Price is – £14,400 I wondered if anyone could tell me a bit about it, has 71,000 on the clock, wind out canopy, bike carrier, reversing camera, big fried and separate freezer, 4 birth, overhead cab, middle kitchen with L shape seating behind, end bathroom with separate shower, swivel toilet, and has Alde heating system, I do have some photos if that would help.many thanks, Mike

Mike Reeves 22 October 2013

I have a 2008 Bessacarr Cameo 495SL which has marks between the double glazing panels in the centre front window.Has anyone else had this type of problem.

Peter 18 November 2014

We have A Bessacarr E560 (08) having trouble finding a tv bracket so that we can watch tv in lounge area not just sitting on the bed.Any ideas!!!!

LORRAINE Cole 5 February 2015

Can anybody tell me the exact height, width and length of a bessacar e495 ducatto 18jtd xlwb

chris 8 March 2015

In December I am buying a 2004 bessacarr cameo 495 2berth caravan Please could you give me a list of 2017 rallies. Thank You

colin clarke 8 November 2016