Caravan Owners Clubs
The Elddis Owners club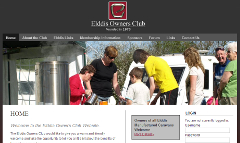 The Elddis Owners club is a national club for owners of touring caravans and motorhomes manufactured by Elddis including any other branded caravan made by Elddis at Consett. The club was originally formed in 1973 and in 2007 they celebrated their 3,000 rally and in 2014 their Ruby Anniversary.
The club organises a number of rallies a year including various themed rallies with events and activities associated with a particular rally. As a member you are welcome to attend any rally but do not have to join in with the activity arranged. We are friendly and family orientated and strive to do the best for our members. We have a junior section and an elected Junior and Teenage Representative; some of their achievements have been raising money for charities such as: The British Heart Foundation, Diabetes Uk, The Stroke Association, Huntington's Disease Association, Lymphoma Association and the RNLI.
The Club defines its aims as follows:
to promote the interests of, and social fellowship among Elddis touring caravan and motorhome owners
to maintain and foster relations with public and local authorities, clubs and organisations with similar aims
to acquire an interest in land by tenancy, lease, purchase or any other legal agreement for the purpose of holding extended rallies or for any other recreational activity of the club.
Membership of the Elddis Owners Club is open to any person over 18 years of age who is the owner of an Elddis touring caravan or motorhome or any other branded caravan made by Elddis at Consett.
For further information please refer to www.elddisowners.co.uk where you can purchase Membership on line.
Caravanwise offer Caravan Insurance , motorhome insurance and insurance for trailer tents and welcomes club members.

Please add a comment or club notice.
as the owner of a compass rallye 524 van, taken over recently by elddis am i eligible to join the elddis owners club please.

Michael Ibberson 11 July 2011

I would contact the owners club directly:

info@elddisowners.co.uk

Phil 11 July 2011

Hello i have just bought elddis caravan i have never owned one and so i am a complete novice i am looking to join a club with experienced caravaners
i am a widow traveling on my own

Dawn Rhodes 8 June 2012

We are the owners of a Shamal XL. We would love to join your club

Saskia _ Simon 22 September 2012

we are buying a Elddis Autoquest 180 next week and would like to join the club. i have not got Adobe reader on my computer so couldn't complete the forms please help

shirley kruck 11 April 2013

http://get.adobe.com/uk/reader/ ;-)

Phil 11 April 2013

Hi just bought elddis hurricane gtx & cannot find battery location. Any help please

Frazer Wardlaw 22 April 2013

hi i got an alfresco 1997 and the floor has started to creak any way to stop it

paul 27 May 2013

1997 elddis genesis mark 2 rear outside adhesive panel 1730×695 where can I get one

isabel 30 May 2013

I have recently bought eldiss odessey 534 2004 shower tray is broken could you advise where I could get one many thanks

rob 21 July 2013

I am interested in joing the Elldiss club. Please advise

Frances Colley 8 September 2013

does anyone have a elddis clermont 2 birth caravan 1999 i desperately need a manual photo copied please help

lacey 22 October 2013

HAVE A ELLDIS RASCAL NIPPER MOTORHOME LIKE TO KNOW HOW MANY NIPPERS ARE MEMBERS …BEST WISHES

Paul Graddon 5 November 2013

Hello we own Elddis Autoquest 180, 2012 – having it refurbished – would like to sell the old upholstery, its in good condition but we dont like the geometric pattern.browns creams and black – offers in and around £300 plus p&p Pics available for those who are genuinely interested

Colin 8 November 2013

WE OWN A AVANTI 544(07)what size porch awning do we need

Cliff Thompson 16 January 2014

Can anyone help please. We have a elddis auto quest 2006
This is our first elddis and we struggle of how to work things when sleeping in it. Can anyone loan, copy or sell us a manual please. I promise we would take great care if it was a loan. Many thx from Elaine

Elaine 5 February 2014

Hi i have paid my membership fee and had no reply thanks Peter

Peter Durnan 26 February 2014

Hi
I am looking for owners manual for Elddis Tornado XL 1991.
Regards

Mike 28 February 2014

hi we have a eldiss nipper on a rascal g reg can we get a copy of frige instructions not sure how it works
regards rich

rich 20 March 2014

We have recently joined the Elddis owners club with our 2013 crusader shamal, but after a few problems have now changed & bought a Buccaneer so have now joined Buccaneer owners club so will have to relinquish our membership

Brian Hughes 21 March 2014

has any club member been experience major problem with the 2012/2013 model ie damp in the front storage or sink discoloured ,also chrome handle fading and getting the poor stander of material work put wright under warranty regards baz

b winter 22 March 2014

Hi everyone! We have just purchased a lovely "vintage" :) elddis tornado xl and was wondering if anyone knows where we can get another shower tray for it?. Oh, can we join your club please :)

Terri and John 22 June 2014

Hi
I need a hand book for my Elddis Whirlwind xl 1992, can someone tell where I can get one from or download

Richard 20 July 2014

I also am looking for an owners manual for an Elddis Whirlwing XL.
Having problems with electrics and water. Any help would be greatly appreciated

Bob 6 August 2014

Hi

I have just bought a whirlwind xl and am hoping someone maybe has a manual I could get a copy of?

Thanks
Kerry

Kerry 7 September 2014

Ive got a elddis ebor 350/2 2berth, has anyone got a handbook to copy and send me. Thank you

Steve 11 September 2014

We have just purchased an Elddis 1997 Hurricane does anyone know where we can get a users guide.
Thanks

sharon 19 September 2014

hi, just purchased a compass rallye 554 2014 model yesterday and now cannot get television to work, its says no signal . never had that problem with my swift caravan, what am i doing wrong. i am gutted……. HELP

amanda martin-smith 21 September 2014

hi i have an elddis whirlwind excel two birth caravan 14 feet not including a frame I am trying to get an owners operating manual for this caravan

Alan Rees 28 October 2014

have a 2014 compass omega. has anyone had aproblem with wheels wearing away top of wheel boxes

colin batten 2 November 2014

Hi . we have just been left a Eldiss wisp 400/4 and wondered where we could acquire a owners manual

Davie.Martin 8 December 2014

What year did elddis use cream upholstery in a 524

ken 21 January 2015

Hello we have brought a Elddis Nipper on a Bedford Rascal what is the widest wheels we can fit and off of what doner vehicle would they come from

Mr M GARRATT 25 January 2015

I NEED a abby vogue gts centre front window 2002 NoSGDS002 SW2 0195703

RON ROBERTS 18 February 2015

I have a 2005/6? Elddis Sussex Ashington GTX in Australia and the manuals do not show the Sussex model. Is this a special? How can I find out the history of this van?
Regards, Brian.

Brian 6 May 2015

have just got a elddis gulfstream ex2000
i need a users guide hand book can any onr help ?

BILL 15 May 2015

I am after an owner's handbook for a 1994 Elddis Slipstream XL caravan. Can anyone help with photocopy/download please?

Rona Walls 21 July 2015

hi we have just bought an elddis1993 Talbot express 1000D and we have not got any idea how anything works its our first motorhome and we don't want to damage her please does anyone have a manual we can buy or can you download a copy it would be most appreciated thank you

Paul 16 September 2015

I've just bought an Elddis Gleneagles (1999), and am a complete novice at caravanning. Where can I find a handbook for this as I don't know how everything works?

Ken Greenaway 29 January 2016

Please help – has anyone got a manual for the Elddis Gulfstream Ex300, 2 berth (1998), or would anyone be prepared to scan theirs and email a copy?

Tadej Fajfar 17 April 2016

Hi I have just got a Elddis Firestorm 470 / 5 year 1999. Do you know where I can get a manual from for this van please.

Regards

Derek

Derek Evans 22 August 2016

Hello,

I just have bought caravan Elddis Gulfstream ex2000 and I need two frond windsows. Do anyone know where I can buy it?

Thank you for any help
Roman :)

Roman 4 November 2016

I own a 2000 mistral EK 2 berth. does the club rally countrywide, I live in Stow-on-the-Wold. Do any members live near by, any interested party please reply

David 21 November 2016

I have just ordered a new Elddis Avante 550 for delivery in February. I wondered if anyone has experience of this model.

Thanks

Gordon B 7 December 2016

Hi I have just bought a 1994 Elddis Hurricane 2 berth caravan. I have bought it as a means to an end and have never even been in a caravan before!! but I want it to be right. I don;t know how it works, it has TV, solar panels and loads of switches. I have got the manuals on the loo, and the CH, can you supply a manual of the whole caravan? I'm not after a freebie, I just want to enjoy the caravan as much as possible. Are there batteries anywhere? All the keys have been lost, but the caravan is in excellent condition and when I've finished it will look like new. Do you have access to any stickers with the Elddis logo on, they are the only things I cannot renew, modern style ones would be fine. Thanks David

DAVID GATTIE 22 May 2017

Looking for 2012 Eldiss avante 372 owners handbook. Just bought the caravan but no annual
Please can anyone help
Many thanks chris earle.

Chris earle 23 July 2017

Hi just bought a ashington 2004 gtx caravan no manuals included anyone able to help

Kay Harper 11 August 2017

Just got a Elddis Broadway 450/4 1999, haven't a clue how most thing work, leisure battery not charging even though it's new when van plugged into electrics, can't find car/van switch, can anyone help or has anyone a Manuel I can purchase

D Devlin 7 June 2020

looking for a front central window for my elddis gulfstream 2000 grateful for any ideas please

john.hugill 4 August 2020

Hi I have just purchased an autotrail320 on a talbot1300d chassis 1990. Is there anywhere I can get a habitation wiring diagram, locate the battery charger and split charge relay. Many thanks

Martin Humphries 6 August 2020

Hello. I bought an Elldis 2000 [352] last August. Please could anyone tell me what size leisure battery I need for it please I it's been in constant storage and I can't get to it to check due to covid. Many thanks. Kath

Kathrine Fenton 6 January 2021

Hello all

Have just purchased my very first caravan. Elddis Alfresco 2001 2 berth model. It has not got an owners manual which I would really like to read. Any suggestions where I can get one from please

Patrick 28 April 2021

I own a 1996 Elddis wisp 350/2 what is the brake shoe size so I can replace them

Richard Baker 7 July 2021