Caravan Owners Clubs
The Bailey Owners' Caravan Club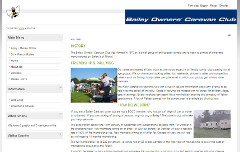 Formed in 1970 initially by a small group of enthusiastic owners, the Bailey Owners Caravan Club (BOCC), is now open to all owners of caravans and motor homes manufactured by Bailey's of Bristol. It is therefore a true single marque owners club.
The main thrust of the club is to arrange family friendly rallies throughout the year, with a focus on "friendship, fun and freedom"
"We run theme and walking rallies, fun weekends, children's rallies and competition rallies – such as fishing. Many rallies are quite small at which you quickly get to know other members." In commemoration of the D-Day landings the BOCC are planning rallies in Normandy, France for 2014.
Full Membership is £15 a year with a £5 joining fee. Full details of membership are available at the bottom of the about us page or you can now join us online .
Caravanwise offer Caravan Insurance and welcomes enquiries and quotation requests from club members.

Please add a comment or club notice.
hello we would like to join the baileys caravan club please could you tell us want we need to do to join thankyou joy and ray

ray and joy savage 7 October 2010

hi we now are proud owners of a bailey caravan and would like to join the owners club please

mr a bridger 28 June 2011

We have just purchased a Bailey Sancerre Please can you e.mail us details of how we join your club. Thanks. Ron & Val

Ron & Val Charles 21 September 2012

We would like to join the bailey caravan club, please old you email me on how to join, thank you.

Martina Edmunds 19 October 2012

we want to join the bailey caravan club

zoe and don 19 November 2012

We would be interested in joining the bailey owners club, could you e-mail us detail of what you do thank you

Mike & Maddie Smetham 12 February 2013

Still not received any news about joining the Bailey owners club

Mike & Maddie Smetham 20 February 2013

I think you are going to have to go to the club website. There are links to it in the article above and here http://www.baileyownersclub.org/. They can now accept online applications. If you are still having problems let me know and I'll do what I can to help.

Cheers

Phil

Phil 21 February 2013

how do you join the club

george wilson 24 February 2013

hot water wont come out of taps in my bailey pageant magenta..1998

david cordwell 7 July 2013

Hi everybody , well I have just bought my first van a Bailey parant cd not a new one she is a 1996 model and in great condition everything came with it she will be going on to a seasonal pitch in cornwall next year the camp site is called Monkey tree some of you might have heard of it it is a really great place something for everyone great for the children to take a look on line

Robert Brown 20 August 2013

just viewed the bailey range of vans with a view to rejoining the club. i dont think i will change my lunar. its time they went back to quality rather than quantity.

Mike Mundy 27 August 2013

Hello,
I have just purchased a used Bailey caravan and would be interested in joining the owners club.
Is there an application form that I need to complete?

Many thanks in anticipation,
Paul

Paul Reardon 28 September 2013

please look into the following show coming again this year, we can assist with group bookings and can offer discounts for groups.

we can also group together as some groups require.

Fengate Farm, Weeting, Norfolk
18th, 19th, and 20th July 2014
If you are looking for a fascinating and nostalgic family day out, look no further than the Weeting Steam Engine Rally and Country Show. It is sure to appeal to the whole family.
Held annually the third weekend in July, the Rally features trade and craft stalls, working demonstrations, vintage vehicles, a miniature steam railway, children's entertainment, restaurant and bars.
Each year also features a special arena event. Please see This Year's Show for details.
Entry is free for all under 16's, as is car parking, all weekend.

Show Facilities
To enable visitors to see all of the attractions on our 170 acre showground, we provide free -of-charge transport, in the form of specially built trailers, which lower to the ground to provide easy access for the elderly and the disabled, with seating and safety rails and area for wheelchairs. These trailers are towed by tractors and continually drive round the show ground on a specified 'bus route'.
Car parking is free
We also have a 12 acre caravan and camping site for those who wish to stay for the whole weekend. For camp site bookings, please contact camping@weetingrally.co.uk.

http://www.weetingrally.co.uk/

please let me know if you require any information.
Regards
Allen Clark

Allen Clark 16 January 2014

Hi, we have just got our first bailey caravan and are looking to join the owners club could you please tell us how we can do this. regards J&L whittaker

jim & lesley whittaker 8 March 2014

Hi,we have had our bailey caravan for 12months now and would like to join the owners club. Could you please let us no how we can join. regards J&G Miller

John Miller 3 July 2014

Three months ago we bought a new Bailey Pursuit 550-4.It is now at the Bailey factory having 25 faults corrected,hopefully.We need to join as we need help.PLEASE

Bob and Judy Kirby 26 August 2014

Could we join your club, we have new 550/4 and it is not without faults. Rich and sue freestone 25 july 2014

Susan Freestone 25 September 2014

Hi again. It's Pete Bennett, I live in the Bay of Plenty. New zealand. My wife and I have purchased a 2002 Abbey 520, imported from UK.It has a name transfer on the outside, Yorkshire Rose.If someone can tell me where there is a serial number I could include it, but can't find one at this stage, only a Abbey owners caravan club sticker. My email. petebennett@xtra.co.nz Not sure if they will print my email address, but if so, if anyone is interested to reply to my question.Date 11.10.2014

Peter Bennett 11 October 2014

Hi – I am updating my rally list database and need to checkthe Contact details I have. Could someone pls email me if they have this information. Many thanks Fiona Lintott

Fiona Lintott 24 October 2014

hi I would like to join the Bailey owners club.how do I go about it.thank you.your john39

john stainer 8 January 2015

Hi John
Please join us via BOCC website. I look forward to meeting you on a rally field.

Jen Sandy 14 January 2015

Hi iv had a 2008 bailey wyomin 6 months now and Ihave just found green mold on the inside of the doors is this due to it being closed up for 5 months plz

tony 6 March 2015

Please check out Corley Village Hall on Venues4Hire.org. We offer weekend stays for caravan clubs. Easy access from the M6. Good facilities. disabled access to hall.

Jen Harris 29 March 2015

Can you please help me to find out the usage of Gas used on the fridge add a new 6kg propane bottle. It only ran 2days and run out. There are no gas leaks can someone tell me do they have the same problem .The modle I have is unicorn mark 3 Madrid 2015 the Fridge seems to be the problem please let me know your comments Thanks

mr Tony Anslow 7 July 2015

Hi All,Does anyone have a users manual for the radio/cd player installed in a 2006 bailey indiana is it possible for someone to e mail a copy i am willing to pay.Any advice on how to remove the unit I have removed the screws from the wooden surround but i am uanable to remove the unit Any Assistance would be apprectiated alan plummer

alan plummer 21 February 2016

Hi, The problem with the radio/cd player is resolved many thanks

alan plummer 24 February 2016

Have a unicorn valencia 2013 which seems to have an awful smell in the cupboard under the sink, has anyone else ever experienced this. No amount of cleaning is taking it away.

Heather 3 April 2016

Just changed our Swift for a Bailey Unicorn 2 and looking forward to the layout inside before we even go away, Pick it up Wednesday then off to the Peterborough show Thursday

PHIL STEVENS 9 April 2016

68 Bailey info required…
I'm in Canada and am wondering why you would charge to trade stories and offer assistance to fellow Bailey owners?

Mke Beaton 6 September 2016