Caravan Owners Clubs
The Compass Club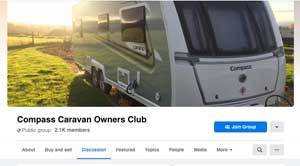 The Compass Owners Club began its life when four Compass owners got together; With assistance from the Compass factory, they contacted other Compass Owners and in 1983 an Inaugural Rally was held at Witton Castle in County Durham on the May Bank Holiday weekend.
Although originally for Compass owners, since 2009 all makes and models are welcome.
Over the 30 years the club has been active the number of rallies has increased to approximately 30 per year and at the end of 2007 the Club had successfully ran 772 events. Venues have been found throughout the the country – from the north of Scotland to the South Coast and Cornwall. These have been in delightful areas which have catered for the many interests of our members. There have also been a number of successful holiday rallies. The Club has also held a number of rallies in France, Holland and Eire.
The rallies, on average, attract about twenty vans, and this leads to a friendly atmosphere on site. Each rally is organised and run by members, although help is always at hand from other members and members of the committee. Recently Compass have announced they shall be reinstated and from September 2013 will be making four new styles of Compass caravan; for those who are interested in buying one of these vans, this club would be perfect for you.
Here you will find the link to the club website where you can easily join the club.
Caravanwise offer Caravan Insurance and insurance for trailer tents and welcomes club members.

Please add a comment or club notice.
hi does anyone know where i can get a booklet on a Compass Envoy 2001 it mat belong to the coroner im not sure but wouldlove to hear off anyone that can help . Thanks Laura

Laur awynne jone 23 March 2010

Have just been given echo 390 and am trying to source front offside window secondhand, any ideas

doug sinclair 9 July 2010

can anyone help me plz im looking for a manual for the compass connoisseur 490/4 ive just bought the caravan ..many thanks ..neil

neil williams 7 September 2010

hi all, just found your site as i have a queiery about my compass corona and was wondering if any other members have experienced the same problem as i have. the problem is exploding tyres. i have had three in four trips on the near side, everytime i have replaced with brand new tyres c rated and inflated to 61 psi as stated in the owners manual. your members thoughts would be grately recieved and appreciated. thanks in advance. steve.

jennysteve 7 September 2010

hello i have just purchased a 2000 rallye 500 and would like to renew the curtains can you tell me were i can buy a set of originals with minimum of fuss

dave burr 24 September 2010

Having just bought a Compass Rallye 460 GTEL I can't figure out how to make the L shaped seats into a double bed. The back cushions are curved and don't fit anywhere!! Thanks

Geraldine Chubb 24 October 2010

Hi all can anyone help mesource
a shower tray for a Echo 340/2 1992
a beautiful little van other than that
hope someone can help

Dave B 26 oct 2010

Dave B 26 October 2010

Hi Dave,

Do a search for "caravan salvage" on Google and get on the phone to caravan salvage yards in your area.

Cheers

Phil

Webmaster 26 October 2010

Hi there we have recently purchased a 2002 model compass amazon 482 and am trying to locate a handbook for it, can anyone think where i can obtain one please?

graham render 10 November 2010

just bought a pentara590 looking for a manual for this caravan please can you help

leslie hogg 12 November 2010

hi there, just purchased a clearmont 490 l any one know where to get a lower left hand front awning rail, it is the one that runs along the bottom of the caravan

lee millward 28 December 2010

Hi Steve ,Exploding nearside tyres on a Corona —— sounds like the tyre is rubbing on something when in motion ? Weakened suspension on nearside perhaps ? Never had a problem with mine over many long trips .

Gerry Price 17 January 2011

Gerry Price 17 January 2011

Compass Omega 544 (2008) – the microwave is jiggered, it's shorting the electrics. Does anyone know where we can get it replaced????

Carol Stead 30 January 2011

Hi can anyone tell me what tyres i should have on my 2007 compass rallye 636 twin axle.
It has what i would say are road tyres not 6/8 ply is that correct?

paul mills 20 February 2011

Hi I've just bought a compass corona 524 it's a great van the only thing missing is the curtain which closes off the bunk beds, anyone any idea of where I could get one? thanks

Aileen 9 March 2011

hi just got a compass illusion 490 1998 no handbook can anyone help

willie colgan 16 March 2011

Hi i have a compass rallye 360 circa 1990 can anyone help please with the tyre pressures or manual.?

john 21 March 2011

We have a 1992 Compass Echo 340/2 and I am looking for a handbook/wiring diagram for it. If anyone has one and would be able to photocopy it and post it to me I would willingly reimburse their costs. Many thanks

Gill Coughlan 26 March 2011

I have recently taken ownership of a 1982 Compass Commodore 400/SE caravan and I'm trying to locate the plastic end caps for the external trim and bump strip. Can anyone help?

Keith Tomkins 28 March 2011

Hi, does anyone know where I could purchase a handbook for a 1997 compass concourse please?

sheryll bland 28 March 2011

Hi
I have a 2002 Compass Omega 524. I need to know what the size of the awning rail is. I have measured 940cm but looking at later model spec it is 959cm. Anyone know the correct measurement please.

Ray Scott 12 April 2011

HI THERE,COULD SOMEONE TELL ME THE MAXIMUM LADEN TOWING WEIGHT FOR A 1991 COMPASS RALLYE GTE 4 BERTH 19 1/2 FEET MANY THANKS

PETE 11 May 2011

I have recently puchased a 2008 compass omega. end bathroom.I CANNOT GET THE SHOWER LIGHT OR THE VANITY LIGHT OVER THE WASH BASIN TO WORK, the bulbs have been checked, and being a retired auto electrician I have found I HAVE NO 12 VOLT SUPPLY TO THESES LIGHTS, earth is ok, where do these lamps pick up the 12 volt supply.

frederick smith 12 May 2011

Hi I have just purchased a Compass Illusion 440/2
Year 1997.
I amm looking for the Cover that fits over the :V: shape at the towing end of the caravan.
Can anybody help me.
Thanks Ray.

Ray Richards 16 May 2011

Hi all, I have just bought a Compass Corona 524 (2005) and I'm having a problem with getting any of the electrics to work when the mains is not connected. I'm a first time caravan owner so forgive my ignorance, but I was under the impression that you could power lights etc without needing to be connected to the mains. I have a leisure battery fitted, and the battery light is green on the control panel, but whether I have the main 12v switch set to 'I' or 'O' nothing works without the mains lead connected to the van. The battery charger is on, and everything works fine when on mains power. This morning I tested the battery and it was only reading 8V so I have had the charger running all day to recharge it. If there is anyone able to help, I would be most grateful. Many thanks Ian

ian messham 22 May 2011

hi all, i have bought a compass clermont 490 4 berth(1999) in green, do anyone know where i can get owners manual as i'm a first time user, need to get to know how things work. thanks noeltte

noelette o' neill 6 June 2011

I own a compass ralle gte 1999 can anybody tell me how to get a handbook

ian carter 7 June 2011

Hi i have just purchased a compass corona 556 and need to know the alloy wheel make and style for a security lock but cannot find any reference anywhere can anybody help?

Greg 19 June 2011

Hello

what is the best wheel clamp i can buy for my 2005 Compass Omega 534? many thanks Ivan

Ivan McClintock 25 June 2011

hi does anyone no where to get a shower tray for a compass rallye 5 berth from as ours is cracked
thanks

julie 6 July 2011

Hi, I have just bought a compass rallye 490L special addition 2000.Can anyone tell me where I can get a offside front window mine seems to be a diffrent colour from the other two. one has a blue tint the other two have a brown tint.

William Gillan 17 July 2011

i , can anyone help me. I have got a compass reflection 403/5 . when i push the knob in on the toilet door to lock it nothing happens. I think i need to get another lock for it , anyone know where i could get one.

Barry Copeland 20 July 2011

Hi can anyone tell me what size awning to buy for a 2004 compass corona 534 4 berth

Andrew Wilson 10 August 2011

hi ..i have a compass amazon motorhome but the floor makes a very tinny click when standing on certain areas.has anyone else experienced it..thanks

jim 11 August 2011

hi
just purchased a 2004 rallye 640. does this model have electric water heating as well as gas? if so where is the control

kevin 12 August 2011

Does any one know tyre pressure for a two berth Compass Omega 400. 1989 and where i can buy handbook. Thank you.

Mrs Garnham 20 August 2011

Have just bought a Compass Panorama 1999 has anybody else got one can you help with has it got an outdoor barbacue connection are they a good model

Roland Findlay 15 September 2011

Hi i am looking for a hand book for 1999 compass rallye 4.6l can anyone help thanks

eddie 29 September 2011

we have just bought 1992 omega 400-2. has anyone got a handbook please as we have a few problems. Also how do we join the members club please?

Eddie & Lyn 10 October 2011

have just purchased a compass magnum 524 2001.Where can I get a user manual as first time caravanners

tom 16 October 2011

can anyone tell me where i can get replacement locker door for my cassette toilet for my rallye compass gte 400/2 1990

arthur jaap 18 October 2011

can anyone help ?i need to replace two windows on my compass conisseuer 490/4 1999 model measurements are 1117mm depth by 630mm lounge window and toilet window is 650mm depth by 550mm width thanks

sam thomas 20 October 2011

Hi, we have recently purchased a 1997 Compass Montrose caravan, can anyone tell us how to ensure all the water is drained out of pipes ect ready for the winter storage.

Many thanks

Mick 1 November 2011

Just purchased a 2008 Omega 544 and the neon light on the 230 volt switch to the left of the water heater switch flickers even when it is not in use. Any ideas on this matter please.

John/Barb 7 November 2011

Hi

Does anyone on here own a Compass Echo 340/2?

We brought Betty from ebay and she's a 1986 model that needs a little TLC. We have never owned a caravan before and have a couple of questions if anyone can help please?

We have the large table that forms part of the bed base but isnt long enough to fill the gap? Is there something missing that makes up that gap?

We also need a new front window as we werent told and didnt notice that the outer perspex had been smashed out so it is only single glazed. Any ideas where we would be able to find a replacement window for such an old girl or can the window be repaired?

Any advice would be very much appreciated – Angie

Angie 13 November 2011

I have a 1996 Compass Turnberry 490/4.
I cannot find any references to this van.
Has anyone else heard of it?

Phil 4 December 2011

Hi Phil.

I think that the Turnberry was a dealer special Compass Rallye

Webmaster 4 December 2011

I am considering buying a 2003 Rallye 482L.
It seems quite heavy what cars do people pull it with?

Ernest Law 20 December 2011

I have a 1991 Rallye Compass GTE 360 and cant seem to get the Battery working or the water pump working when it's on the main. Can I get the battery tested if its dead how much will one cost me ?? and can someone run me through getting water to come through the taps. Regards Neil :0)

Neil Kay 2 January 2012

2008 compass omega 505 front window set secondhand or new

George Fleming 4 February 2012

we bought a compass omega 544 easter 2011 the alarm go off in the middle of the night catterick caravans cannot find a fault we now have 2 cracks on nearside front window any help please

shirley 7 February 2012

Hi i need help to find new carpets for my Compass Corona 544. Does anyone know where i could find new ones Thanks

Suzanne 11 February 2012

If you Google "replacement caravan carpets" you will find a number of firms that will make you a replacement set.

Webmaster 11 February 2012

have just bought a 1998 compass 490/l gte.does anyoune have an operational manual and heating and hot water instructions they could e mail me also same question as question 6 l shaped lounge email cksmatt@tiscali.co.uk thanks

cliff 19 February 2012

anyone know where i can getcurtains from to fit my omega 534, just the ones that fit on the front

andy everton 20 February 2012

Hi does anyone no where I can get a third brake light from for my 1999 Compass Rallye GTE, we have searched everywhere we can think of. Thanks

Alastair Lomax 26 February 2012

I need a table for a compass 360, anyone know what type I need please?

Jon Spoard 3 March 2012

hi i am wondering if any one has a electrical dieagram of the wireing of a compass reflectoin as i would like to fix mine thanks

James Muir 4 March 2012

Hi, I'm trying to find the top roller assembly for the internal sliding door on a 2002 Compass Omega 505

Richard Brooking 5 March 2012

can any one tell me what size caravan cover i need for a compass corona 534 2001 model please

brian brooks 5 March 2012

does anyone have a wiring diagram for a compass lynx 340/2 1999
they can scan for me
Paul

tonto26 14 March 2012

I'm trying to find new decals/signs for the front of my compass amazon, as the Amazon sign has faded.Has anyone any ideas?

Andy M 15 March 2012

Does anyone have a manual for a compass illusion 590 or advise where I could get hold of one

Thanks

Janet Wynne 21 March 2012

Like Richard Brooking I am trying to locate some sliding door fittings for an omega 505. Does anyone stock them? Any Help Sincereley Appreciated

Richard Nicholson 27 March 2012

Hi can anyone tell me where I can get hold of a manual for a Rallye Compass GTE year 2000!
Cheers

Rachel Johnson 29 March 2012

Does anyone know where I can buy a replacement wheel and tyre for a Compass Rally 640 2005 model – thanks

Brenda Benterman 4 April 2012

I have just bought a 2003 compass corona 524,The owners manual is missing and I not sure how to set up the bunk beds

David anthony Bowditch 8 April 2012

Hi. We have a compass comadore 400 SE and need a few spares. In particular a rear window.
Can anyone advise please.

MARK MALCOLM 8 April 2012

I need a replacement rooflight for my Compass Rallye 430 GTE 2 Berth; it's the rooflight above the kitchen. The aperture is 385mm x 385mm but I can only find 400mm x 400mm repalcements on the internet. Any help with this would be welcome please!!

Harry Hatton 11 April 2012

Hi i need replacement bedroom doors for a compass carona 534 any body know where i can get some from please

andy chappell 14 April 2012

Hi i have a compass clermont 490/5 2000 model and need to replace the tap in the kitchen sink. i have the type of tap it is but there are 2 sizes, 27mm and 33mm does anyone know which will fit my model. thanks

ian morris 21 April 2012

Hi Guys and gals Our little Compass 360 has been great for the last5/6 years and has been a good little workhorse, sadly I am in need of an Offside window, marked as follws:

Roxite 80
DO41
Polyplastic Rotterdam, can anyone help? Located South Staffs

Stuart M 22 April 2012

just bought compass rallye gte 4 berth would like to no how hot water works r they gas water heaters or electric

eddie hall 23 April 2012

hi have just got compass magnum classic 482 and have window leak when window closed it leaks when open little no leak can any shred any light on this thank you

leelaura 26 April 2012

We have just bought a 1987 compass rally 400 and wondered if anybody knows how to set the bed up properly?

Iain Simpson 27 April 2012

Does anyone ever answer these questions?
See question 19.

Keith Tomkins 30 April 2012

need a front window for a compass echo 390 if any could help would be great thanks

thomas balmer 30 April 2012

For parts on older vans try doing a Google search for compass caravan breakers. Add in your area to find one nearby but for smaller parts they usually do a postal service. There are always lots of older caravans being broken as when they get to a certain age they tend to be written off rather than repairs because the cost of repair is uneconomic.

For windows on older caravans your best bet might be to buy one form a specialist who makes them to order. I did this a few years ago and the window was a perfect match. Do a search for "caravan windows" on Google again there are a few firms listed.

Quite a few folks ask about user guides for caravans, heating systems etc. I'm doing a bit of research to see if I can get hold of some of these so that we can make pdfs available on-line.

Phil 1 May 2012

hi,does anyone know the best place to get a piece of awning rail for 2007 compass omega 544.it the drivers side rear section and wouldnt need the whole thing if i could get a piece about 1.2 m.
thanks kirk.

kirk patton 17 May 2012

Can some one please advise us how the toilet works on the compass rallye gte 4.6l how do you add water

Anne 20 May 2012

Can anyone tell me the awning rail height on a Compass Corona 540, 2005 model ( looking to buy a porch awning ).

Mark Tayler 22 May 2012

we are about to buy a 2001 compass rallye 2b £4.500 – does anyone have any comments on either the van or the price?

jill 23 May 2012

where can i find the 12v fuse carrier in my Compass Clermont 2001

Graeme Belfast 27 May 2012

need a replacement front middle window for a Compass Omega 524 2008 does any body know from and how much please

Brian Pincott 29 May 2012

need new or secondhand side window +inner for compass rallye gt special edition 2000 model does anyone know fron where +how much thank you

paul wood 29 May 2012

Hi We need top half of stable door on our compass corona 556 2008 model. Does anybody have or know were we can get one. Thanks

simon cooper 4 June 2012

Hi .. I have owned my Corona Club 362 2009 for the last year. On my last trip the microwave decided it wasnt going to work. I has power to it, display works, all heat settings and timers are working BUT it is not warming anything. Can anyone help please or do i need to purchase a new one and if so where would i get the same model from?
thank you
John Adams
Proud owener of a compass caravan

John Adams 6 June 2012

Hi does anyone have a compass Connoissuer owners manual or know wher I could get one?

Tam Weir 18 June 2012

has anyone got a manual for a compass omega 430 4berth caravan 1988/89

amanda jacquin 24 June 2012

Does anyone know what wheel clamp to use on a compass corona 475 that has a motor mover on it.

Jayne 24 June 2012

Can anyone help me having trouble getting my toilet to work

Richard 7 July 2012

has anyone got a users manual for a compass connoissuer 490/4?

Neil 7 July 2012

How to operate toilet
http://www.caravantourer.co.uk/beginners-guide/first-time8.php

Phil 8 July 2012

Hi. We have just bought a Compass Lynx 340/12, and would be extremely grateful for information on how to charge the battery from the house mains? In particular, we have no information on the rocker switches on the panel inside the caravan. Do any of these need to be on/off? Thanks

Sian 11 July 2012

If you don't have access to electric point where the van is stored then its best to take the battery home and top the it up with a trickle charge with standard battery charger, I use my caravan charger to top up the battery say for 24 hrs when not in use – never let it run flat and charge up – always keep it topped up – when on site its always on charge then when full the charger cuts out.
If you don't have one you will need to get hold of the right plug and extension setup. Just ask your local dealer for advice on what plugs etc you need and they'll probably tell you all you need to know about charging the battery at the same time.

Phil 11 July 2012

hi,we just bought a omega 400-4 and cant find the battery,there is a compartment on the side with 2 trip switches but no leads?also as we will stay on sites with ehu do i need a battery for this model,
we stayed on a site last week and the sockets worked fine but the lights didnt,is the problem linked? thanks for any advice.

ian 14 July 2012

i have a compass rally gte 1999 caravan i am looking for a door for it if anyone could heip me it would be great

joe 24 July 2012

Looking for compass lynx 1997
2 birth gas locker lid year 1997

Bill winter 1 August 2012

Hi I am looking for some spare parts for 1999 compass rallye 5.0 gte. I'm after some of the interior cushions or fabric to replace, interior light shades, and high level brake light? Thanks in advance

Jeff Thomas 5 August 2012

i have a compass pentara590/4 has anyone got a manual

billyb 6 August 2012

hi could somebody tell me what lightweight awning fits my 94 lynx 340/2 because of the slooping roof? thanks

frank 7 August 2012

hello all, i have a compass avantgarde 300 motorhome 2004. i am looking for the top grey plastic step insert that the step mat fits into, any information would be very appreciated

regards bob cooke

bob cooke 17 August 2012

can anyone tell me the correct wheel rim size for compas corona 534 2001 so I can purchase a new wheel rim as van is on site 100 miles away

keith barnsley 20 August 2012

Hi
we have just purchased a 1992 compass echo 340/2 caravan.
Can anyone please sell us a copy of the owners manual / handbook.many thanks
Ian Ritchie 30/8/12

Ian Ritchie 30 August 2012

Hi any one looking for parts you can try KTG reclamation yard at www.ktgcaravanandcamper.com, Tel:07935 159000. I found them very helpful

Avril 8 September 2012

Hi can anyone tell me how to fix a water problem on the floor of my 1991 compass omega.When I fill the water tank for the toilet (slowely) I get water on the floor in my van? Charlie September 9 2012

Charles McGuckin 9 September 2012

Having just purchased a 1993 compass Rallye 460/2 touring caravan
I need a handbook or manual Can anyone tell me how to get one please

Cal Edwards 13 September 2012

hi carl i am going to the factory tomorrow i will ask for you. colin

colin chambers 14 September 2012

Still looking for a handbook for 1992 echo 340/2 any assistance would really be appreciated.
Many thanks

Ian Ritchie

Ian Ritchie 15 September 2012

just purchased a 1999 compass ralley gte 400l 4 berth and cant work out the L shaped seat turns into double bed any adivice many thanks

jimmy crangle 15 September 2012

as new owner of compass caravan.5.5/5b with no detailed paperwork.ie.hand book.to denote model.can anyone tell me the model by these numbers. SG5RA6 CPX9926*** year 1999 many thanks

eddie barker 16 September 2012

93 reflection merit 430/4 just purchased water system not working need handbook for wiring diagram to check
electrics help please

dave clarke 21 September 2012

Does anyone know where I can get a rear tail light for a Rallye 360 circa 1989?

Stuart Cross 23 September 2012

Hi, I have a Compass Omega 430/4 Chassis No 90CP011583 1.Can anyone tell me what age it is and 2.Has anyone detailed info on how to reseal the large front window. Size and type of rubber seal needed/mastic

David Henderson 2 October 2012

Compass Owners Club change to The Compass Club
I have been asked to reply on the Club's behalf regarding your recent message posted on the Compass Club web site blog. Sorry for the delay in this reply.
We changed from the Compass Owners Club to the more open format of The Compass Club, allowing non Compass owners to join and in doing so, lost some of our technical knowledge. Therefore unfortunately we are now unable to provide any advice or replies to Technical questions.
I have copied this message to the link provided, for the information of any person who may contact your site, with Compass specific questions.
Many thanks Jim Clegg

Jim Clegg 17 October 2012

I have just bought a Compass Omega 550 2008 but did not get a users handbook,anyone pse tell me how I can get a copy

Keith Hudson 22 October 2012

Hi can anyone help, ive just bought a compass rallye 510/5 gte, we are new to caravanning and an engineer has just told us that the caravan has had a blow out at some point so on the passanger side we have no brakes at all and its held together with string!!!! great as the people we bought it off new we would be carrying our children. My question is does anyone know which axle would fit this caravan its a 1992, we would like to get a complete replacement to make safe, any ideas would be wonderful please.

karen 28 October 2012

Can anyone tell me how to drain a compass omega 482 off for the winter please.

Eileen Tucker 31 October 2012

Hello,I have just purchased my first caravan after being a tenter for 10 years. I have bought a Corona 505 2001 but has a replacement rear window which is just a sheet of Perspex. I am trying to find out the actual size window I would need to replace this but cannot find the information anywhere. If you could help me I would appreciate it so much. There are many on Ebay which I think could fit but would like to know exact measurements before I commit to buy.

Lisa Williams 4 December 2012

Please could someone tell me where to find the in line water filter on my compass 544 and how to empty the bowl if it has one

Keith Pearn 10 December 2012

Hi, does anyone know where I can get a 2001compass envoy rear right light cluster? Thanks

Stephen Wilkes 24 December 2012

Hi. I've recently purchased a Connoisseur 440/2 1995. Does anyone know where I can get a replacement front pulling pushing handle. The current one has pulled through the body work and in removing it I've snapped the fixing bolt.

Kevin 26 January 2013

I own a 2 berth 2003 Compass Concerto 482.I am looking to purchase a porch awning but not sure that a 390cm one would be too long, can anyone help.Many thanks Graham.

GRAHAM 11 February 2013

hi can any help just got hold of a 2006 compass rallye 650 a real stunning caravan and some of the inside down lighters spotlights are not working or blown bulbs does any one now the wattage for replacement 10watt? or twenty watt? cheers

mark 13 February 2013

Hi, can anyone advise tyre/wheel size for a 1996 compass connoisseur 440/2 please

Geoff miller 17 February 2013

can i use a whale mark 2 pump on my corona 524 005 model

andy 21 February 2013

Does anyone know where I can find the various wattages of bulbs in my Compass Omega 2004.

Tony Woods 2 March 2013

HI ALL CAN ANY BODY HELP I NEAD A NEW FRONT STICKER FOR FOR MY COMPASS OMEGA 482 2003 ITS THE ONE ABOVE THE FRONT WINDOWS DO ANY ONE KNOW ME WHERE I CAN GET ONE

DAVID FISHER 14 March 2013

can you please tell me what the correct tyre pressure would be on 2007compass corona 556

alan 24 March 2013

Hi, I have an older caravan I'm reconditioning for personal use, its coming on fine. Its a compass omega 430 4, 91 model. But the cushions for the front have some parts missing, also I need the ladder for the rear. Its got like a greany gray. If any one can sell me these what I need, or a gd set. Please get back to me. On: Dave.wells2@ntlworld.com, thanks in advance

dave wells 31 March 2013

help. my mum and dad have just purchased a compass 2002 caravan, the outside light does not work, we cant seem to get the front off to see how to replace the bulb etc, we dont want to force it and break it, does anyone know.

tracy 15 April 2013

I,m thinking on rejoining, please send me details

Alan Barlow 23 April 2013

I have a Compass Amazon 524 2005 caravan where can i get a manual for it?

Mark Ketteridge 1 May 2013

Help, We took our 2000 Compass Rallye on first outing of the year at the weekend. Strong bleach like smell from the tap water yet when we drew water from the tap on pitch it was fine so evidently a problem within the van. Noted some algae appearing on first flush of loo so must be some muck around in the pipes. Any tips on how to cure this? The van was serviced at the end of last season and I believe a new water filter was fitted.It was drained down over the winter.
Also having trouble with outside light above door which isn't working and is fouling our new sun canopy which stays in awning rail. Fittings in light look very rusty. Is it easy to move the light down few inches and any idea why not working. Bulbs appear to be intact. Any suggestions would be appreciated.

William 7 May 2013

recently the power died whilst hooked up. I now have the sockets working but nothing else, also wheres the filling location for the tank? shaun_fletcher9@hotmail.com.. many thanks

shaun 15 May 2013

I have a Compass Omega 430/4 1990, could anyone recommend a good tyre and correct size for this van.
Thanks
Davy

David Henderson 19 May 2013

LONGSHOT…BUT, LOOKING FOR A LITTLE CUSHION SEAT FOR BELOW L SHAPED WINDOW AREA THAT MATCHES THE REST OF SEATING ( WHITE/MAROON/FLORAL MIX )..MEASURES 27"X 10" FOR 2000 COMPASS RALLYE GTE 430. NOT SURE IF IT ACTUALLY EXISTS !..BUT SOMEONE MAY KNOW??.

Di & Ian Briggs-Smith 24 May 2013

I have a much loved Rallye 640 for sale (hartlepool) really nice van needing new home as we have decided to stop caravanning. Best layout.

Robin 6 June 2013

can anyone help on a
workshop manual for a
compass rallye 2 berth 1994, please

dusky maiden 7 June 2013

Hi
we have just got a fabulous compass echo 340/2 and we would like to get an awning. can someone advise on what and where please. I am a complete caravan novice but am exceptionally excited by our new family member. thanks

Miriam Frier 9 June 2013

I have a Compass Liberte. When replacing the rear offside lens I managed to mix up the wiring (!) and now need to know which colour wire goes where!! Can anybody help please?

Richard Hall 1 July 2013

can anyone tell me which fuse may blow if you start the engine when still connected to mains. lights work when connected but dont when just aux batt used. ????

John clifton 3 July 2013

Have just purchased a Compass Vantage 360/2 and am looking for an owners manual. Will re-imburse any cost involved. Many thanks.

John M 14 July 2013

Hi guys, I bought a compass omega 544 recently but the table is missing. Does anyone know where I would get one. Thanks. Philip

Philip 28 July 2013

I have a 1996 compass connoisseur and need to buy an adapter to run from the two pin plug to a cigar lighter socket so I can run a 12 volt TV. But I don't know what the two pin plug is called that I need. Apparently there are two types. Thanks

David Haith 4 August 2013

Can anyone tell me what the wwcorrect size awning is for compass pentara 1993 ,,4birth model is

Hazel Wilson 21 August 2013

We have just purchased a Compass Aztec 600, can anyone tell us where we can obtain a copy of the user manual, or email us a copy. Thanks

Ellon Oliver 29 August 2013

Can any body supply me with a wheel spat for a compass corona 534 off side 4 berth fixed bed 2003 model

Jeff 30 August 2013

can anyone tell me how to find the name of the grey paint on my 2002 Compass Cruiser so i can respray some repairs thanks

David Box 5 September 2013

I bought a Compass Corona 482 in April this year, in unused condition and although registered with the dealer in 2004 with CRiS, we are the 1st registered owners. \we didn't know the alloy wheels had one nut requiring a security key to unscrew and here we are in a Bordeaux camp site needing to change a wheel! Can anyone help with constructive suggestions or indeed perhaps by sending a key to us after which replacing with standard nuts, I will return by prompt post. It's long shot but any help appreciated.

Johnnybgood22000 29 September 2013

I've just bought a 1990 Compass Rallye 400 gte 2 berth and I need a battery box door. Can anyone offer any advice as to where I can obtain one? I seem to be going round in circles looking. Thanks in anticipation.

Alan Whittle 8 October 2013

Hi
we have a 2007 Compass Magnum Classic and need a new De-cal.
Could anyone tell me where to get one from please. We live in South Yorks, But get across to the Hull side of the Humber quite often. Cheers

corni 12 October 2013

Does anyone have instructions on how to fix Compass rallye gte 490/4 4 berth caravan 1997 water pump or the manual for this caravan? We cannot get the water to work!!

Carol creighton 16 October 2013

Hi,does anyone have a manual for a compass rallye 430/4 berth? I think it is 1994.Many thanks

Peter Cooper 17 October 2013

i have purchased a compas pentara and have found serious rot on one side .it has come from the awning rail. and we have stripped of the rail and are in progress of sorting that out .the major problem is the rot at the front corner .the whole timber frame is virtually gone, and also the adjacent window frame .i need to find out what ists invplved in replacing the frame work .does any one know where i can find a diagram of the frame so that i can see if its possible to repair.

barry robertson 17 October 2013

Can someone confirm somithing,I have just got a Clermont 490 is it a dealer special and was it based on a rallye

paul 19 October 2013

hi my window has dropped out of my 2007 omega caravan – does anyone know how to refit window (side bedroom window black tinted flat profile)

steve daley 2 November 2013

Does anybody know where i can find Sec/hand large frontwindow for Omega 360/2 of 1990

john t. 21 November 2013

I'm trying to get in touch with Ian Morris my first cousin Tried his phone number in Wales nil response,please can anyone help?? Thanks Stu from Brisbane Queensland Australia

Stuart Mannering 11 December 2013

Hi have compass rallye 650 can't work out how to operate the parking system need some help

Abdul 6 January 2014

Hi, does anyone know where I can source a lower front wall unit trim (the section that the lifting doors close down on to)
For a Compass Rallye 640.
Many thanks

Nick 12 January 2014

hi just wondering if anyone has access to a basic wiring diagram for a compass hermitage any help would be appreciated

alastair 18 January 2014

hi I have a compass omega 505 and I don't know where the battery charger is because I need to see if it switched on can any 1 help please

pat 24 January 2014

Hi all Can anyone tell me where I could find some sort of instructions to fit a shower tray in a compass omega 544 I have the tray but it is very fragile. Hope somebody can help.Thanks

Philip 3 March 2014

Hi im after a compass rallye 460 2001 owners manual can anyone help me please. Thanks ian

ian 6 March 2014

can anyone name the colour of a compass rallye 524——(2006) been scratched in storage!

jan 10 March 2014

can anyone tell me where I can get a new brake damper for a 1999 compass rallye gte 4.6L please

Bob 15 March 2014

Hi there,I have my dad's compass rallye 1994 model.the wooden interior at the front windows has seen better days,not water damaged.think the sun over the years has done this.any ideas on where I can source replacement?this is where the zig board is.

Glenn barrie 21 March 2014

hi there, we have a compass connoisseur 1995/96 model. can you please tell me what size of wheels i need for this. thanks in advance.

rosemary murray 1 April 2014

We bought a compass shadow 440 last year but the bunk ladders are missing could anyone suggest I tried local salvage but no joy seibbo@outlook.com would be happy to buy off someone if anyone got any spare ? Thanks

Sarah 8 April 2014

can anyone tell me the correct tyre pressures for a 2003 Omega 485

Ron Charnock 8 April 2014

can you tell me where fuse box is located on a compass omega 524L please

sharon lindley 19 April 2014

can any one help me I have a compass rally the water pump does not work also so the tolet does not flush all this was work but not now have check fuse

jane 23 April 2014

Hi I have a Compass Aztec 2001 model when i got it kitchen tap missing. Can someone tell me what type i need and where to get thanks

cheryl Stewart 25 April 2014

Hi, I have a compass rallye 650 and need to replace the awning light bulb. Cannot find an idiots guide.Can anyone help on how to do it?
Thanks

Denis Smith 7 May 2014

Q96 check that an inverter has been fitted for 12volt lights

Colin Hyde 9 May 2014

hello
i am volker from germany.i have a compass pentara 460 2.i have not the bilding year.i need it for the german M O T.
the serial number is cpw 98 25962
thank s for help

best regards volker from

bremen north germany

volker michaelis 11 May 2014

hello, I recently contacted Compass caravans for a manual for a 1994 Rallye GTE 400/2 and was told, as they didnt have this manual any longer, best thing to do was to contact you good people and ask if any of your members may have one that i could purchase, as this is a new venture for my wife and I, best to start off with some basic knowledge. thaks so much. Geoff

geoff guest 12 May 2014

I have purchased a late 80s compass rallye gte 400 2 berth and I'm wondering if anyone knows where or what axle I need as it's leaning to one side,thank u

matthew 21 May 2014

hi, I have a compass omega 1997 model. I need a gas locker door. can anyone help??

Paul 27 May 2014

I have a compass mendip magnum classic and need a new bottom half for the front door. Anyone have any advice on where to look?

sam apley 29 May 2014

Hi. I recently purchased a 1999 compass rally 500/5 caravan but can`t find the water filter to change it. can anyone out there help please.
I would also like to purchase a manual

Bill 1 June 2014

Hello
I am trying to get top front name badges for a Mendip Magnum Classic 2006 as a couple of letters have melted off. Can anybody offer advice as to where I can try please?

Dean Ridge 5 June 2014

Hi does anybody know where I might get a hand book for a Compas Amazon 524 year 2002. Thank you

Paul Kinsella 5 June 2014

Hi I'm looking for a compass vantage 400/2 gas locker door.
Thanks

Neil walker 24 June 2014

can anyone suggegt a suitable porch awning for my 1997 Compass Connoisseur which is only 230cms high. was looking at Dorema Magnum 260 but they reccomend a height for caravan of 235cms. Grateful for a reply from anyone

charlie willcox 2 July 2014

Can anyone help, i'm looking for a A. Frame cover for a connoisseur 1997, thank you.

Glyn Thomas Collins 3 July 2014

just bought a 1996 Compass Calypso. Does anyone have the users manual that I could copy, please?

Janet 7 July 2014

Hi we have a 2004 compass van and we cant locate the break away box, any help would be wonderful. cheers

Michelle 8 July 2014

How do I drain water for winter on a compass 500/4 GT yr 2000

Glenys Morris 13 July 2014

Hello. We have just been given a compass rallye GTE 360. I'm a bit stumped re the water connector and how the heating works. Phoned Elddis and they said they would send info but haven't . Can anyone help me please

sarah morton 17 July 2014

We have bought a superby Compass Magnum Sport 505 (2006). Unfortunately, one of the rear lights is cracked. Where can we get a spare? Done lots of internet searching – nothing so far. I'd be most grateful for any suggestions. Sandra

sandra harrison 22 July 2014

1990 Compass Omega 430/4 Does anyone have a paint reference number or a source of correct paint.

Dudley Hughf 23 July 2014

Can anyone tell me where i can get a replacement base plate for under the gas bottle in the Compass 400. It is a black plastic vented bucket type structure.

Richard 23 July 2014

I have a compass omega 482 with leaky side windows, they are leaking from the top where it hinges. It seems that the glass needs to be closer to the seal as it barely touches it when closed. I have looked at it to try to bring the glass closer to the seal but can't see any way of doing it. Do you know of any way I can adjust it.the seals look good and don't appear worn it just seems as though the window wants to be closer to the seal. Thanks

bernard 9 August 2014

2006 compass corona , what size awning do I need please

kmorgan 28 August 2014

Hi. My husband and I have a very old Compass Rallye GTE 1992 and it's been a fab caravan which has finally seen its last days. We have patched it up and now have to admit enough is enough. We love the layout of this caravan and really need to find one the same, twin axle also. I'm finding it very hard to get exactly the same layout as this one though, newer obviously. After looking on the internet I've realised the side two seats and table have to go to accommodate a better side bathroom by the looks of things, but a bedroom which can be closed off for my baby to sleep in and a side bathroom (with seperate shower) so that we don't have to go through a bedroom and disturb him is a must. We would prefer a Compass sleeping upto 5/6 again but am open to suggestions, any advice anyone? I'm going around in circles at the mo. Looking at a max of £8000.

Mrs Lisa Newbury 29 August 2014

where can I buy a internal step moulding for a compass avant-garde 100 2003

derek marshalsea 8 September 2014

help need to find ral paint code for compass corona 544 club 2008

potts j 15 September 2014

Can any one help looking for owners manual for Compass Omega 524 model 2007
Geoff

GEOFF JEROME 15 September 2014

hi just got a very run down compass rallye 400 – never had a caravan before – would love any manuals/literature etc to help in my restoration project

john carey 1 October 2014

Hi where can I get a piece of awning rail from about 1 meter for my 2006 compass omega

Simon 3 October 2014

I've just bought a Compass Commodore 400SE at a farm sale but the seats have been ripped out, all the wiring cut and no controls for the water heater (it had been used as a site office). Also I can't see how water gets to the shower and sink as can't find a water tank or pump and I've looked everywhere on the internet to find photos of the original layout and details of the wiring system/water operating instructions etc., but can't find anything at all. Apart from the 'camouflage' paint all over the outside, it's generally quite sound, no damp, fridge, heater, oven, shower all intact. I wonder whether anyone has inside photos of this model caravan they could email to me, or a copy of the manual so that I can get cracking on the refurb to bring my van back to life. Would be ever so grateful if you could help

Fran Parkes 6 October 2014

Can anyone tell me what porch awning will fit my 1996 Compass Calypso? Thanks.

Ron Paine 23 October 2014

where can i get an internal cover for the skylight of my compass calypso motorhome, also does anyone know which porch awning would fit my motorhome? Thanks.

Ron Paine 23 October 2014

Have a 2001 Comapss Omega 2 berth 360/2. Leaking underneath – any ideas of what and where to check. Seesm to be positioned under cooker = Water dripping form grey connector pipes underneath leading to waste water main pipe – reflux grezy water now also coming up into shower tray area

Natalie 27 October 2014

Hello, I'm looking for help. I had purchased Compas Raylle Gte 430 from 1991 or 1992. And I look for more info about my caravan like lenght, size, wieght and the inforamtion that are needed to registrate a caravan. If someone would could help me to find these info I would be very grateful. I think it looks like this http://www.gumtree.com/p/caravans/compass-royale-2-berth-caravan/1083727453 , but i'm nmot sure. In my caravan there isn't any shelf between the place you can sit.

Joanna 30 October 2014

hi i have for sale on lovey compass echo 340/2 i have had it for over 3 years and had lots of good times in it but now i need a 4 birth you can ring me on 07980557847 dave

david tillett 11 November 2014

Fran Parkes, I have a compass commodore 400se and will send you pics of the areas you need but I don't know how to contact you. georgesut100@hotmail.com

George 21 November 2014

I have a new 2014 Compass Omega 540. The water pump doesn't work properly at all. It keeps stopping whilst water is coming out of tap. One turns the tap off and on, a lot of air comes out and then water for a while before it goes again. The dealer and Whale pumps have replaced everything in the system to no avail. Has anyone else had this problem.

David Mannock 7 December 2014

I have just acquired a Compass Omega 360/NO2 and would like to know which Alko wheel lock will fit this model? Thanks

Albert Mottershead 9 December 2014

I have a 2005 Compass Liberty Air 14/2. Can anyone tell me how to take the brake drums apart. Cheers Ron.

Ron Gilling 16 December 2014

Can anyone tell me the colour of the wallboard on my 2000 compass rallye gte 4.9l as I have to replace a damp area which I need to match?

Jonathan 3 January 2015

Hi, I have a 2003 reg compass calypso motorhome on a VW T4. Like to become a member of the motorhome club. Who do I contact? Cheers

Raj Hoon 9 January 2015

hi can you help me just purchased compasss rallye 430 2 birth but can not get hot water to come through cold is but not hot ,when hot tap is turn on there is a noise but no water there is like a switch near the floor with a green light orange and red but neither come on when flick switch there is two 1amp fuses in there ,is this to do with the water or separate altogether can you enlighten me im sure its something simple

graham 10 January 2015

I bought an omega 524 in the spring 2014. when the rains started in the autumn a bad leak developed around the joint in the roof between the plastic rear panel and the aluminium roof. I am in the process of drying things out in order to repair the joint. can anybody help me obtain a new aluminium cover strip.ian 21 jan 2015

ian whyte 21 January 2015

Compass Omega handbook for ALL 1987 models says tyre pressure 35 psi, on 155SR13's – BTW, I am looking for a 430/4CT to replace our 400/2, I am in POOLE Dorset

Roger William Emmerson 31 January 2015

Hi, anyone have instructions to operate heating and hot water system in a compass corona 556 2006/7 thank you Brian

brian.walker7@sky.co and 11 February 2015

Hi I have just purchased a Compass Commodore se 2 berth caravan circa 1979 The electric control panel has been removed. Any idea where I can get a replacement and a copy of the wiring diagram please?

Kathy Stringer 13 February 2015

Wanted Urgent
Manual for a Compass Rallye 460 GTE year 2000
Paper copy would do Hope you can help Mr PC Wayman

Sandra Wayman 17 February 2015

hi
I have a compass omega 550 2014 .i know that caravans have a fresh water door for the flushing the toilet but mine has not have look though the hand book but tells me nothing Does that mean that the water come,s from the barrel or main,s hook up .if it must fill the tank in the bath room.anyone help me thank you.

barry 6 March 2015

Hi I live in OZ and have a Herald Clermont 490-4 2000.and hope that someone can help me find the make and mod of the taps. thanks Ray

Ray 16 March 2015

Hello, can anyone help me? i am looking for parts to restore my compass rallye GTE 1991,the parts i need are wheel spats and side skirting, if you no of any were i can get them id be greatful for your help. thanks

Brian 16 March 2015

Hi, I have a compass Rallye 500 4 and need to change the kitchen tap anyone know how to get to the underside ???.

Tony 21 March 2015

Hi, could you tell, what tap a compass, Lynx, 1996, has in. Or can I do a repair to tap, I can stop it dripping out of spout. Regards Sue

Sue 15 April 2015

Wanted urgently
Manual for 1989 Compass Shadow 330/2.
Van in need of tlc. So any tips on wiring, gas fire etc. would be appreciated.
Can anyone help?

Valerie 21 April 2015

A friend is looking for the wheel specs (PCD) etc for a compass rallye gte 400 1997 model and lives in Australia. Can anybody help?
Regards, Brian.

Brian 6 May 2015

I have just inherited a Rallye GTE Compass. Not sure which model but I think it is around 1990, 2 berth, end kitchen. It looks like this one: http://www.gumtree.com/p/caravans/compass-rallye-360/1110750617
Any information or manuals on electrics, heating and water systems greatly appreciated. Thanks.

Richard 16 May 2015

Hi,
We have a 2002 Corona 524 caravan & I need to purchase a wheel nut lock key….any ideas where I can get one from please?

Sian Pumford 29 June 2015

I have compass echo 1992 340/2 I have lots of trouble with my tail lights not sure if I plug in right plug 12n or 12s only one can be plug in , also as u look at it from the front what is the 12n and the 12s right side and left side can any one help

Daveart1@hotmail.com 25 July 2015

Can anyone tell me where I can get a tow coupling for my compass omega 430/4 1992

Robert Macdonald 8 August 2015

Hi
I have a Compass Rallye 460/2 2001 caravan. The water pump inlet is broken but I don't know which make/ model I need to buy can anyone help?

Teresa Connell 26 August 2015

looking to find the type of wall board used on a compass connoisseur 1995,thanks

gary millar 28 August 2015

Hi does anyone know where the light switch is for the outside light above the door on a compass rallye 5 / 500 se caravan

James Fenton 30 August 2015

Hi, I'm trying to source external frames for both rooflights of a 1991 Compass Shadow.
Any help appreciated, thanks.

Tony McCrory 16 September 2015

Hi I have just purchased a Compass Kensington 500/5 2000 model and I would like to obtain a user manual, could any one offer any help as to where I can get one any help much appreciated, thanks and regards.

John 5 October 2015

Hi just bought a Compass Magnum Mendip 524 2002 do not appear to a mattress for the top bunk. should there be one?

Ron Thomas 10 October 2015

I have an Omega 482 and all the electrics were working fine then suddenly the plug sockets stopped working. We are hooked up to the mains and everything seems fine apart from the sockets. Tried the RCD and everything is fine there.

Ian 18 October 2015

Hi Everyone – I hope that you can help – my father died recently and I have inherited a Compass caravan, which is currently in France! I can't for the life of me find a key for it – would you know how I source one? It's a Connoisseur but I don't know what year it is……thanks a million for any help, David

David 9 November 2015

Hello, I have a Compass Illusion 490/4
made 1997. please can anyone help me to get a new bathroom sink basin. Thank you.

JOHN WITKISS 21 November 2015

hello,
can anyone help me find roof vents/skylights for my little echo (1983)
thanks

richard 18 February 2016

Hello, I own a Compass Rallye. I recently experienced a wheel come off, on the M25, leading to damage to the wheel hub, wheel rim and wheel arch. Can anyone help me with purchasing the replacement parts, so that I can employ someone to carryout the repairs? Thank you in anticipation.

Steve 3 March 2016

Hi guys I am looking for door seal for a compass omega 510-5 just bought van done few repairs all nice now new carpets curtains lights the lot just stumped on what type door seal I need to sort door as when closed see daylight through it please help.

John 22 May 2016

I am looking for the end caps for the side trim on a Compass Echo 340/2. They seem to be very expensive for a cheap plastic moulding – that is if I have found the right part!

John 13 August 2016

Hi all, What is your opinion about Compass Pentara 590/5 ?

Gabor 5 February 2017

I cant seem to get the caravan running lights and indicators to work has anybody got any ideas on where I need to look to check?

Michael 11 March 2017

I have a Compass Rallye 490L but the running lights including the indicators are not working can anybody advise me where to look and check please?

Michael 11 March 2017

hi i have a compass 490/4L 2000 year .i need a off side front window can any one tell where i can get one thanks ali 31 may

ali 31 May 2017

Hi
Looking for a replacement front locker door for a Compass Lynx. Thanks

Kate Allam 9 July 2017

Hello,

Can anyone email me the eletrical scheme for a Compass Shadow 430 of 1992 ? Thanks

ginodh@hotmail.com

Gino D'hoker 18 July 2017

Hello, does anyone have an owners manual for the Compass Vantage 360-2 1992 that I can copy/purchase please?

Deborah Wain 24 July 2017

I just purchased a compass liberty 18/4
There are 2 switches I cannot seem to see what they do. – is black and on left below to unit and the other is opposite side along the to unit

Kelo 28 July 2017

I just purchased a Compass Rallye GTE 360 from 1990 I guess. Has anybody a user manual for this caravan or a similar one?

Darius Borovic 18 February 2018

I would like to join the Compass club

bernard langridge 4 March 2018

Hello everyone, hoping someone can help. My parents keep their compass shadow 440 abroad and the light/ roof opening needs replaced. Can anyone advise where to find the measurements?
Thank you

Michelle 10 June 2018

Compass Magnum Classic
the circular light in shower / toilet will not light when switched on . How to I remove the outer cover to access the bulb etc

Bob Rout 16 June 2018

What model Whale mixer taps do I need to replace the ones in my Compass Kensington 360/2 please?

David Trigg 10 July 2018

I am trying to help oap out ,he has problem with taps in toilet shower,kitchen.his caravan is a compass connoisseur 490/5 1996 I have been on line trying to find circuit diagram for wiring some one has been messing with wiring to micro switches on the taps,hope you can help cheers

colin bibb 13 February 2019

Hello, I am searching a owner guide for compass connoisseur 440/2, please help me! Best regards

Guerric 30 June 2019

in urgent need of a WATER PUMP for a COMPASS VANTAGE 360-2 E MAIL OR RING ME on01325263717 thank you

kenneth coates 4 August 2019

I'm trying to get at the water pipes under the sink on my Compass Omega 360. One is leaking ! Any idea how to get at them??? The doorway of the unit is VERY narrow . Help!!! Annie

Ann Markee 12 August 2019

What colour is the finish on doors, etc in a compass calypso 1991

Joan Jones 15 August 2019

Hi,
I'm looking for a cover for the whale pump Compass Avantgarde 2005,
Anyone help.
Thanks

Paul Egan 16 August 2019

Hi
Does anyone have a manual or wiring diagrams for a 1991 Compass Royale GTE please?
Bought a write off, to fit our our self build campervan, but having a few electrical issues.

Many thanks in advance

Andy

Andy Clark 13 November 2019

Looking for a battery box flap for compass connoiseur 490/4. Hinges have perished!

roo 29 November 2019

I have an Omega Compass 432 build in 2002, i am looking for a replacement fuse box for it, it holds 12 fuses. the number on the back which i guess is the serial number is 01430476

Nick Hill 13 January 2020

Hi i m looking for a replacement wheel for a compass rallye Commodore 400 and can't seem to get one or find the specs anywhere can anyone help please

Jimmy mcconnell 25 January 2020

Hi im looking to buy a porch awning, does anyone know the rail height of a compass rambler 19/4 2007 please?

Tetley 16 March 2020

Hi can anyone help me I have a Rallye Compass 636 2007 touring caravan. I have had the battery checked – all good. However the motor mover will not work and I cannot get the alarm system to work either – any suggestions.

Alison 24 April 2020

Hi
Does anyone know the diameter of the awning rail on a Rallye 650 please? I need some awning rail stoppers but not sure if I need 6mm or 7mm.
Thanks
K

Kerry Beeton 29 July 2020

I have had a window stolen from my corona 475. Does anyone know where I can get replacement windows

Terance Gazeley 9 March 2021

Hi all!
Does anyone know where I can find an gas locker for my compass lynx340/2 year 2000? Thanks!

Anca 29 May 2021

Have a Compass Magnum 482. Trying to remove middle front window, as per advice, by lifting it as high as possible and it should come down a little, then lift away. Not working and do not want to remove all fitting screws at top. Any more advice/help thank you in advance.

John.Fox 3 June 2021

What size tyres should be on my compass corona 534 year 2000.and tyre pressure

Keith barnsley 18 September 2021