Caravan Owners Clubs
Lunar Owners Club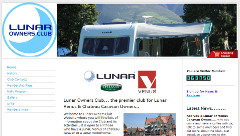 The Lunar Owners club was formed in 1976 for people who had the common interests of ownership of a Lunar, Venus, and Chateau Caravan and the desire to get together with friendly people in a relaxed caravanning style. The club developed with members from all over the British Isles, but even with rallies as far away as Holland, the club has always been able to maintain a friendly and close knit community.
The club organises rallies for members "We rally throughout the year at venues as far spread as we can and usually have one Continental rally each year. The year is normally planned well in advance so that members can arrange their leisure activities early in the year. The details are published in our Club handbook, of which we are justifiably proud and which is issued to all members and updated from time to time as changes and improvements develop!"
The club enjoys a close working relationship with the manufacturers of Lunar caravans and this has proved to be mutually beneficial over the years and is the envy of many other owners clubs.
If you are interested in joining the club go here: Lunar Owners Club and complete the simple contact form to start the ball rolling.

Please add a comment or club notice.
have just bought renault lunar home car like to join your lunar club thanks sheila

sheila reed 7 August 2011

hi have just bought a 1987 lunar clubman 390 2 caravan and wish to join the club

PHILIP PRESTWOOD 4 September 2011

do you have any meets in the south i.e kent and sussex

p.drage 25 January 2012

Have just ordered a Lunar Clubman SB and are looking forward to July when we get it.

Judith Burroughes 21 February 2012

HI i have a 1994 lunar meteor could anyone tell me what size awning i need many thanks

Brian Bunker 6 August 2012

Hi I am about to take delivery of a Lexon 420 2012 model, does anyone know what number insert will fit my Alko wheel lock receiver that will already be fitted. The Alko site includes all Lexons except the 420 which is now discontinued. Just my luck!

Brian Gregory 19 October 2012

Are there still any vacancies on you Holland Rally with L.O.Club Thanks Ken,

Ken Fathers 20 December 2012

Thanks for your quick response re Holland Rally l look forward to hearing from the organiser\rally marshall whom l understand is at your new year rally . I understand she/he will contact on her return home.Happy New Year Ken & Jane

Ken&Jane Fathers 31 December 2012

we are planning to buy a lunar freelander 2007,has anyone got any information on this model

Pat Allen 4 January 2013

Can anybody tell me the correct size awning for a delta TI 2012

Dave 23 May 2013

Hi I Own a 2005 Lunar Ultimata 566 which I have had from new. I have found damp under the door and the timber needs replacing. Has anyone else experienced a similar problem and if so what did you do?

The Pooles 29 May 2013

Hi, I am looking to buy a full sized awning for my LUNAR LEXON CD 2002 CARAVAN. TO SAVE ME DRIVING 100 MILES TO THE VAN CAN ANYONE TELL ME WHAT SIZE AWNING I WOULD NEED, WE DID MEASURE, BUT THE WRONG WAY.

JEAN 17 June 2013

Just purchased a 2008 Lunar Clubman 475CK, with no handbook, can anyone scan one in and email it to me or if you have a spare willing to pay postage etc, judging by the Dealer prices they must be gold plated

Berrie 20 July 2013

i'm looking for the awning size for a 1992 lunar clubman 475ck, can any one help, thanks

david 15 August 2013

hi can anyone help I am selling my lunar luxor caravan 2007 eb
but cant find the manuals or instructions for the appliances can anyone suggest where I may get copies please

lynda 18 August 2013

We have recently sold our Lunar Clubman SE and have for sale a brand new Protec full cover. Cost £387 never been used. Any reasonable offer accepted.

Margaret 27 October 2013

Have just bought a 1995 Lunar Clubman 400-2 and looking for handbook if anyone can help

Ron Young 17 November 2013

We have recently bought a lunar quasar and would be interested in the lunar owners club

Philip Wolstenholme 6 February 2014

Would like to join Lunar Owners Club as I've just bought a Clubman 390-2(about1993) and have never caravaned before and will be looking for manuals on how to use appliances etc

Thx in advance

Dave 9 March 2014

I would like to now what's involved in your club at the moment I'm with the caravan club its getting to expensive I'm retired we have got 2009 luner lexon can you tell me ho is to join.

michael proctor 30 April 2014

I have a 2008 lexon 640rs and a bulb has blown in the round light on the ceiling by the bed anybody know how to remove the cover .

Adrian Hannaford 25 May 2014

Just purchased 2013 lunar quaser 524 looking for handbook

Brian Malcomson 19 July 2014

Just bought 1994 Lunar Clubmn 2-berth.
Any ideas where I can get an owners manual for it please ?>
Chris Middleton lundfarm@talktalk.net

Chris Middleton 31 July 2014

I would like a manual for a 2 birth Luner Clubman 1995 if anyone can help I would apreciate it.Thanks DH-J

Davidhill- jones 31 July 2014

Just bought a lunar lexon eb which I was told was a year 2003 howeverI believe it's a 2000 model. Does anyone know how I can obtain a manual. Many thanks.

Mark Dry 28 August 2014

Current Lunar Handbooks

http://www.lunarcaravans.com/handbooks-guides

For older ones you could try writing to sales@lunarcaravans.com Please let us know how you get on.

Phil 28 August 2014

Just bought a lunar clubman se 2015 pick up in May brill

James denton 29 January 2015

Hi everyone – you may get a reply more easily via the Lunar Owners Club's own website at http://www.lunarownersclub.net/

John Leslie 14 February 2015

We have just bought a second hand Lunar Quasar. It didn't come with any handbooks/guides. Any idea where you can get them from please, (ours is a 2005 model).
Thanks

Emma 25 February 2015

I have a lunar Ariva GT 1997 on 12" wheels, does anybody know the number for a replacement wheel bearing?

Stephen Borrett 16 April 2015

I have for my sins a lunar stellar, year 2010 it has been a constant pain and cost , trouble from day one .my dealer gave me attitude when needing warranty work . I am looking for (2) struts that hold up the gas locker cover can anyone advise .I have asked local dealers they cant help they are not lunar dealers.

rjfurnell31@hotmail.co.uk 18 May 2015

hi i've just purchased a 1997 lunar ariva 4berth van would any one know were to get hold of one please ?? mick

mick richards 11 June 2015

hi can anyone tell me were i can get lunar meteor windows 1992 please tried most caravan breakers thanks can get in to my email can u call me on 01475638510 thanks

alexis 12 June 2015

Hi. We have 2007 lunar delta 2birth. The fuse has blown twice on the ultra heat switch. Any help

Graham 25 August 2015

I have a 2000 solar eclipse I am having a problem with the 12vlt system although it works when on 240vlts it will not work when on battery only. I have just changed the battery for a new 12vlt one
Can you please give me a clue
Thanks Jim

Jim Wood 5 September 2015

Hi just bought a luner delta tl 2009 what size battery do I need

James 10 November 2015

hi I have just bought a 2007 lunar solaris I didn't receive any if the owners handbooks or heating instructions plus I need some new interior parts anyone got or can send me in the right direction,cheers

chris james 17 April 2016

Hi I have just bought a lunar ariva 2 1997 and I have lost power to my plug sockets. Does any one know where the circuit breaker or fuse is located ? Thank you

Kim Clarkson 27 May 2016

Does ebay one have a 1992 metureite hand book for sale thankful please?

David wragg 18 December 2016

Just purchased 2005 Lunar Chateau 450 but no handbook supplied.Can anyone help?

Keith Stewart 25 February 2017

Hi, I have just bought a Lunar Freelander 524 (2000), Can anyone let me know where I can get a Manual/handbook please, I dont even know where to plug the generator in!
Any help would be much appreciated,
Thanks, Mick.

Mick Ford 2 April 2017

hi, i have got a lunar solar 2003 but no manual can anyone help please. thanks

ann wootton 14 April 2017

Just bought a 1999 Lunar Freelander 525 and don't have a handbook. Can anyone help please?

Dave Eckersall 15 April 2017

Hi I have a 2014 Lunar Venus 490/4 and need to replace a wheel bearing, does anyone have the bearing specs please

Mark 29 April 2017

Hi
Just purchased a Lunar Quasar EB 2008
but no manual/ handbook
would be greatful for help as to where i would be able to purchase such
many thanks in advance

Liz Mc 8 May 2017

Hi just brought a lunar clubman 475-2ck 1997. I am after a copy of the owners manual if anyone could help me where I could get one from. Thanks for the help

Karl 3 March 2018

Hi, we have just bought a in a quasar 544 ultima. I'm interested in other owners reviews

Mark 63 9 May 2018

Hi just bought lunar solar 524 2003, can't get 12v to work unless running on 240v. Battery perfect & fully charged. Any ideas thanks in advance

Paul Grey 31 May 2018

Hi I've just purchased a 1995 lunar planet chiron 2 berth caravan and I need help with the bathroom sky light size so I can order a replacement doom any help much appreciated thanka

Mike 17 August 2018

Hello Mike, do you still need the size of the sky light for your Chiron? I can measure ours for you.
Steve

Steve Coley 11 December 2018

Hello, just bought a 1994 Venus 5 berth and am looking for an owners manual please. Thanks!
Ken

Kenneth Finn 19 June 2020

Just bought a 2019 Lunar Quasar 570 but they do not seem to exist on the internet

Daniel Sellstrom 28 August 2020

Anyone can help me with a Lunar Meteorite S caravan handbook ?

Baciu Gabriel 10 September 2020