Caravan Owners Clubs
Gobur Owners Club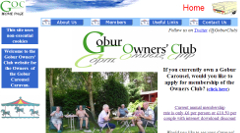 The Gobur Owners Club was formed in 1998 to provide an association of people who own a Gobur Carousel and provide opportunities to meet up with like minded people to enjoy their caravans.
The club holds rallies in various parts of the Uk and tends to hold these on commercial sites in order to benefit from the full facilities provided.
Membership is open to the owners of a Gobur folding caravan and their immediate family (spouse and children); it is currently £6 pp or £10.50 per couple with internet download discount.
Link to club website Gobur Owners Club' Club
Caravanwise offer Caravan Insurance for Gobur folding caravans at the same rate as rigid caravans.

Please add a comment or club notice.
want to buy a small slimline gobur can anyone recommend and dose anyone know of one for sale 3 to 4 thousand many thanks hope to join soon d kirby

derek kirby 19 August 2020

i am interested in purchasing a slimline10/2 Carousel caravan. If any of your members are thinking of selling one please let me know

Thanks
Graham 21/12/2020

graham fletcher 21 December 2020

Hi my thetford toilet flush is not working. Is there a fuse in the cassette compartment any hints on how to fix it please

David Bentley 16 May 2021