Caravan Owners Clubs
The AAOCC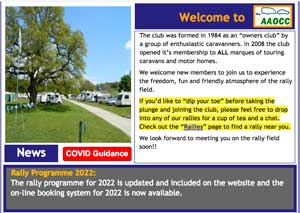 The AAOCC was originally formed in 1984 as an owners club for the owners of motorhomes and touring caravans manufactured by Avondale. It remained a single brand owners club until 2008 when membership was thrown open to owners of all caravans and motorhomes. This change was stimulated by the sad demise of Avondale Coachcraft Limited. Now if you are looking for a friendly family orientated caravan and motorhome club ACCEO is well worth considering.
The club operates throughout the UK and organises rallies throughout the year. Many of the club's rallies are weekend events with some longer ones of up to two weeks.
The membership fee is just £15 for you and a partner (children are members for free), a year which includes rally book and regular newsletters.
Caravanwise supports the AAOCC and offers members a discount here: Caravan Insurance

Please add a comment or club notice.
Please email us for details of our rates for rally bookings! With or without electric hook ups!
Many thanks.

Stanford Hall Caravan Park 7 August 2013

please look into the following show coming again this year, we can assist with group bookings and can offer discounts for groups.

we can also group together as some groups require.

Fengate Farm, Weeting, Norfolk
18th, 19th, and 20th July 2014
If you are looking for a fascinating and nostalgic family day out, look no further than the Weeting Steam Engine Rally and Country Show. It is sure to appeal to the whole family.
Held annually the third weekend in July, the Rally features trade and craft stalls, working demonstrations, vintage vehicles, a miniature steam railway, children's entertainment, restaurant and bars.
Each year also features a special arena event. Please see This Year's Show for details.
Entry is free for all under 16's, as is car parking, all weekend.

Show Facilities
To enable visitors to see all of the attractions on our 170 acre showground, we provide free -of-charge transport, in the form of specially built trailers, which lower to the ground to provide easy access for the elderly and the disabled, with seating and safety rails and area for wheelchairs. These trailers are towed by tractors and continually drive round the show ground on a specified 'bus route'.
Car parking is free
We also have a 12 acre caravan and camping site for those who wish to stay for the whole weekend. For camp site bookings, please contact camping@weetingrally.co.uk.

http://www.weetingrally.co.uk/

please let me know if you require any information.

Regards

Allen Clark

Allen Clark 16 January 2014

If you are looking for a fascinating and nostalgic family day out, look no further than the Weeting Steam Engine Rally and Country Show. It is sure to appeal to the whole family.
Held annually the third weekend in July, the Rally features trade and craft stalls, working demonstrations, vintage vehicles, a miniature steam railway, children's entertainment, restaurant and bars.
Each year also features a special arena event. Please see This Year's Show for details.
Entry is free for all under 16's, as is car parking, all weekend.

Show Facilities
To enable visitors to see all of the attractions on our 170 acre showground, we provide free -of-charge transport, in the form of specially built trailers, which lower to the ground to provide easy access for the elderly and the disabled, with seating and safety rails and area for wheelchairs. These trailers are towed by tractors and continually drive round the show ground on a specified 'bus route'.
Car parking is free
We also have a 12 acre caravan and camping site for those who wish to stay for the whole weekend. For camp site bookings, please contact clarkad@hotmail.co.uk

http://www.weetingrally.co.uk/

please let me know if you require any information.

We can offer grouping together for groups and group discounts.

Regards
Allen Clark

Weeting Rally 11 January 2016

hi. I have a VW lt 35 coachbuilt motor home we are very new to motor home use but are looking for sites to try out our van. Weeting sounds good but we need something sooner. any suggestions please.

mike 22 January 2016

hi i have a avondale pearl olympus and i live in essex do you have meets in this county
best regards

mr a mills 4 June 2017

hi i have a avondale pearl olympus and i live in essex do you have meets in this county
best regards

mr a mills 4 June 2017